On Saturday, May 11th, the Northern Paladins hosted their third Old School 93/94 tournament, the Spring Regrowth!  The tournament was once again hosted by Universe Games in Minneapolis with a tremendous thanks to tournament organizers Michael Angelo Russo and Joseph Freshwater!   This tournament gathered 27 players, another increase over our Fall and Winter tournaments.  We had 6 rounds with the Swiss+1 format, and rules were Eternal Central 93/94.
Here's Joseph giving the play-by-play at the start of the tournament:
The prizes consisted of an Unlimited and CE Berserk for 1st and 2nd place, "Northern Paladin altered (NP)" Concordant Crossroads for 3rd place, and NP Sylvan Library for 4th.  Top unpowered won a Taiga…Wow!  A fellow Paladin remarked to me that this type of prize support could cause players to bring out their spiky unpowered decks, to which I said "That would be AWESOME!"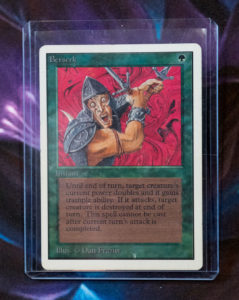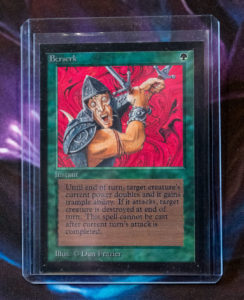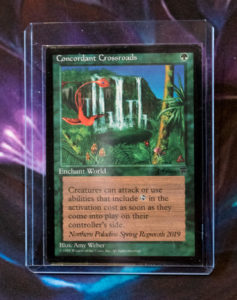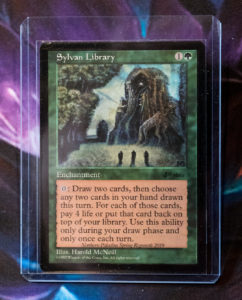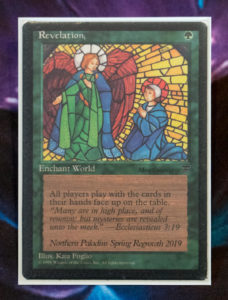 ALL participants received a NP altered Regrowth, each one with the 2019 commemorative event text inscribed on them.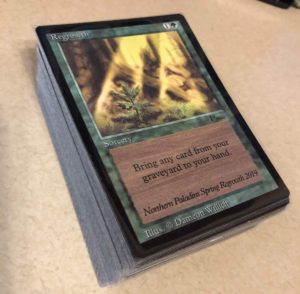 Other special NP card awards were given out to numerous other categories!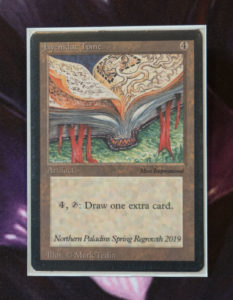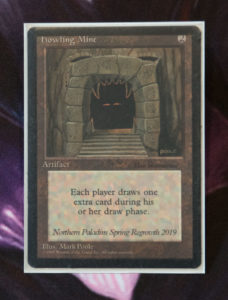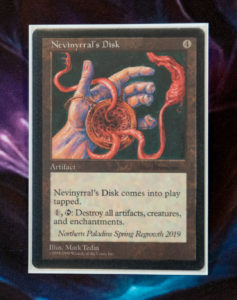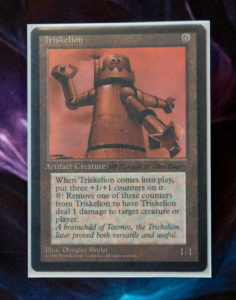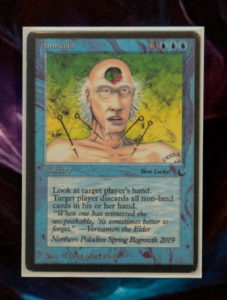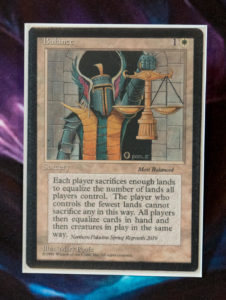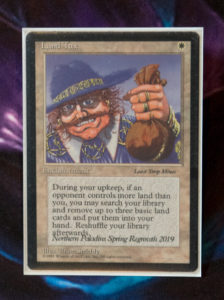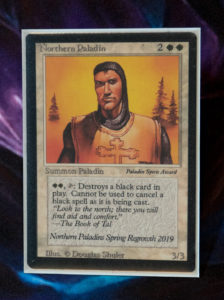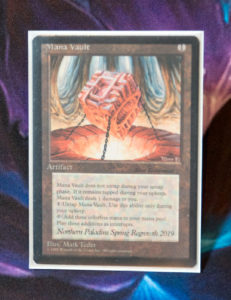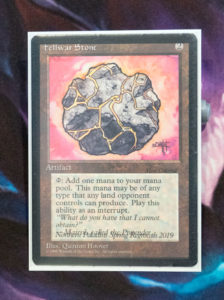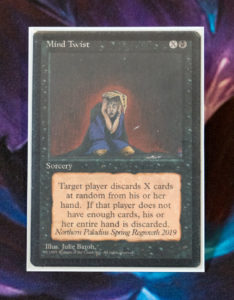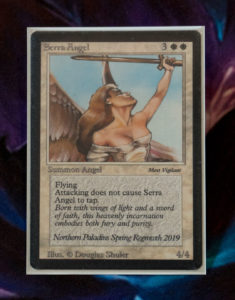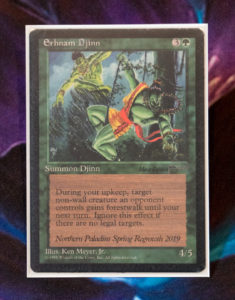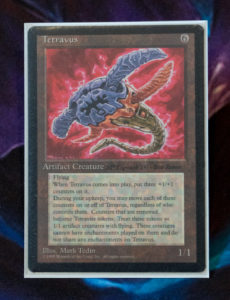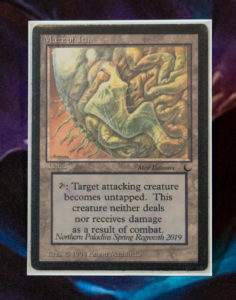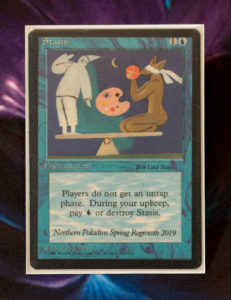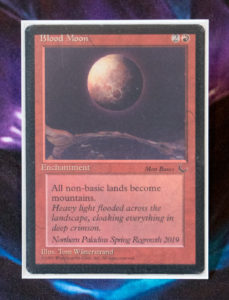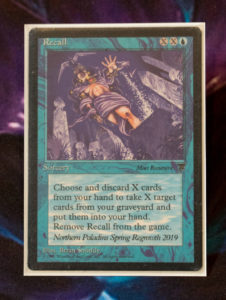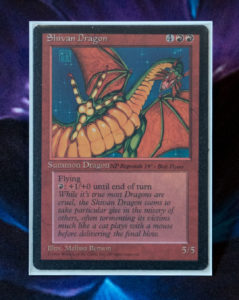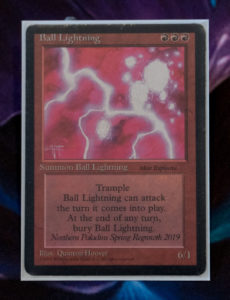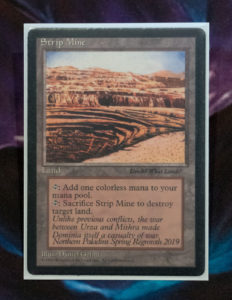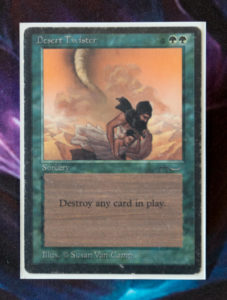 Six amazing signed prints and a couple altered cards (see below) were RANDOMLY handed out to participants!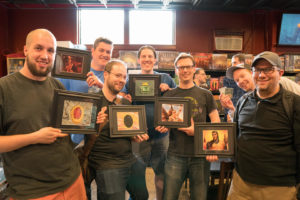 Below are the two cool cards altered by our very own Paladin Dustin Brossard — a Disney based Enrham Djinn and the ONLY Chinese Revised Plains you will ever find in the world!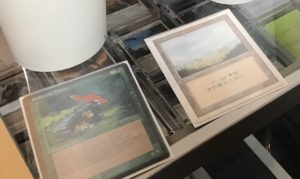 Dan Hyland won an oversized Ernham Djinn signed by all participants!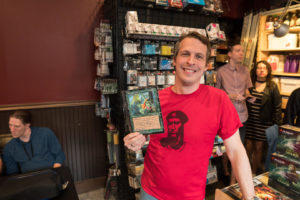 Last, a big thanks to Michael Gross for organizing our sponsored charity "The Sheridan Story".  It's not too late to donate, even if you did not participate in the tournament: https://donate.thesheridanstory.com/team/229265
FINAL STANDINGS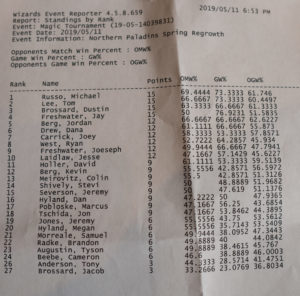 AWARDS
The winner of the tournament was Angelo Russo, bringing his powerful Mono-blue Workshops Control, a deck that also took first place at this year's Madison Offensive   Once this deck gets to six mana, there's no stopping the onslaught as Robot after Robot beats you down.  The deck uses copy artifacts as a flexible means to accelerate mana or copy Robots and the full suite of blue goodies including transmutes and counter magic.  The deck includes a neat trick with Tawnos' Coffin where you are endlessly pinged from Triskelion or swarmed by Pentavus tokens.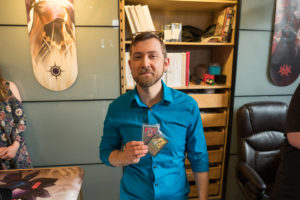 Angelo won the final match against me 2-1.  In this final game, Angelo ponders what to play as I  drop a Golgothian Sylex!  How many of you can say you've ever seen that card played?!?!  Despite my spicy tech, Angelo's grip of card was too much to overcome.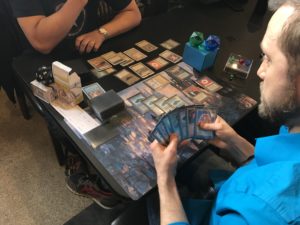 Tied with Angelo at 5-1 at the top of the standings were Dustin Brossard, Jay Freshwater, and ME!  Dustin played a unique take on White Weenie, using more controlling weenies such as Witch Hunter, the leper Abu Jafar, and Clergy of the Holy Nimbus (which Dustin says won him two games!)  Some Arabian Nights goodness included Jihads and Army of Allah!  Jay played URb Tog, a powerful aggressive deck that attacks through artifacts, burn, and finishes you off with a hungry A-Tog.  I played The Undeck.  It looks like The Deck at first glance, but it eschews the slow win condition of Jayemdae Tome and instead dismembers you with The Rack, Amnesia, Hymns, and Scepter, while having extra control elements accessed through Transmute Artifact.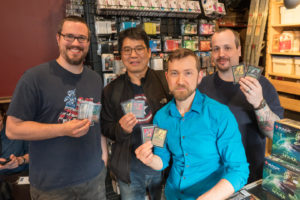 Top Unpowered Deck – Dana Drew.   Dana brought a sweet mono-red Sly Burn deck, finishing 4-2 and 6th without any power!  You won't often see a deck with Dwarven Soldiers, Iron Claw Orcs, and Orcish Spies, but I think a Orcish Spy finished me off in one game after a Ball Lightning and Blood Lust had done their work.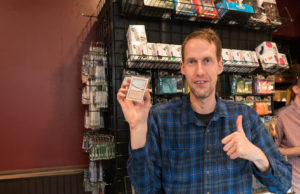 Most Creative – Jake Brossard.  Jake brought a BW Animate Wall deck (how about Bandimate Wall for a name?).  I didn't see his games, but I envisioned Walls of Swords, Bones, and Spears smashing his opponents possibly banding with Benalish Heros and a miser War Elephant.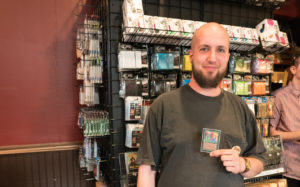 Paladin Spirit Award – Jeremy Severson.  Jeremy has been taking most of our pictures for the past two tournament, and he has been an ardent player and supporter at our Tuesday Night Guantlets at Universe Games.
'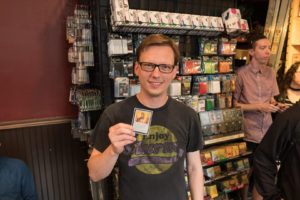 DECKLISTS
Below are the decklists in alphabetical order by last name.   I didn't have decklist names, so I took so liberty with the names!
We had a great variety of decks, with no more than a couple of any deck archetype.  I love the deck creativity in this community.  Mono-black took a break this time with just a couple versions (vs. 5 last tourney!)  We had NINE unpowered decks, with THREE finishing 4-2 and in the top ten (congrats Dana, Joey, and Jesse!)
Tony Anderson – WG Ernhamageddon (unpowered)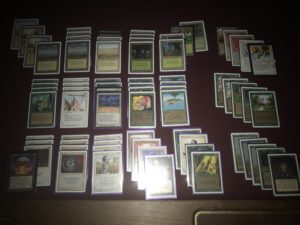 Tyson Augustine – RG Beats (unpowered) — love the Ichneuman Druid!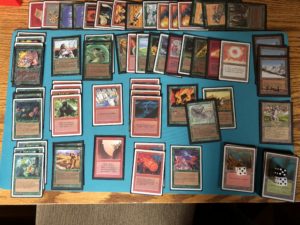 Cameron Beebe – BWR with Lesser Werewolf (unpowered)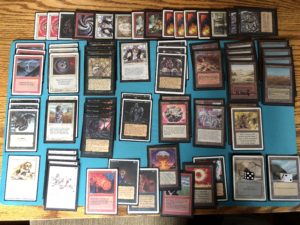 Jordan Berg – RU Aggro Artifacts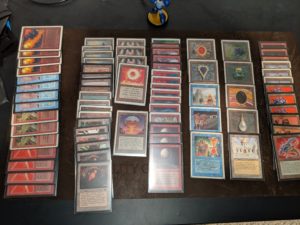 Kevin Berg – The Deck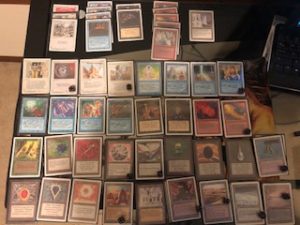 Dustin Brossard – White Weenie of the Holy Nimbus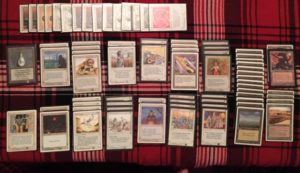 Jacob Brossard – BW Animate Walls (unpowered)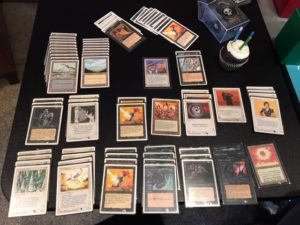 Joe Carrick – White Weenie (unpowered) with 11 Wards in the Board!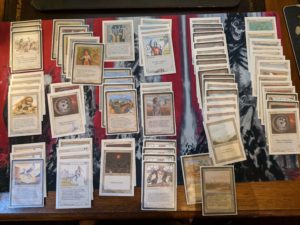 Dana Drew – MonoRed Sly Burn (unpowered)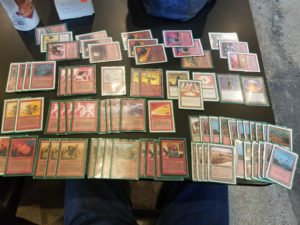 Jason Freshwater – URb Tog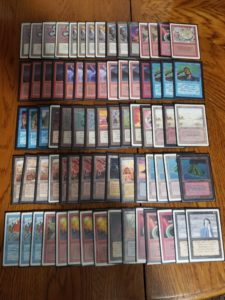 Joseph Freshwater – Paladin Breakfast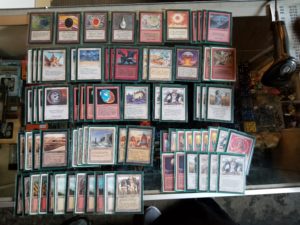 David Hollar – UBR Underworld Dreams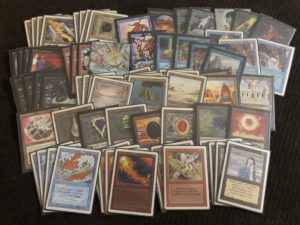 Dan Hyland – RG Berserk Tog — rumor is that he had a double berserked Juggernaut do 20 points in a game!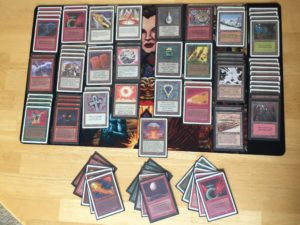 Megan Hyland – Mono-black (unpowered) featuring Frozen Shade!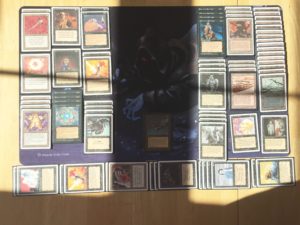 Jeremy Jones – RG Aggro
Jesse Laidlaw – Monoblack Discard (unpowered) with Icy Assassin combo!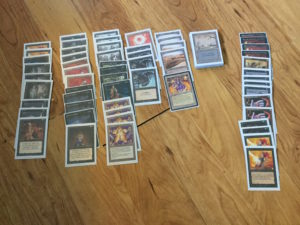 Tom Lee – The Un-Deck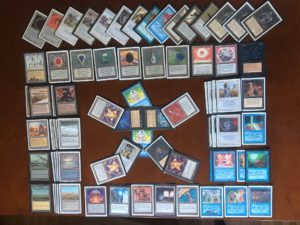 Matt Mcguire – UWR Skies Control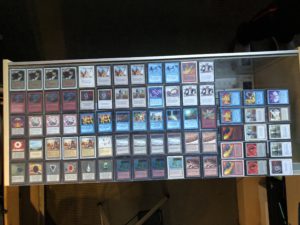 Colin Meirovitz – Mono-Blue Aggro Control (awesome maindeck Energy Fluxes!)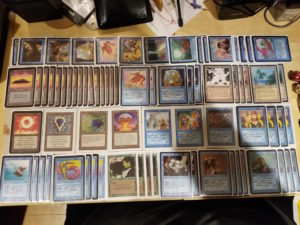 Sam Morreale – RB Artifact Prison — Sam was the farthest traveled coming in from LA!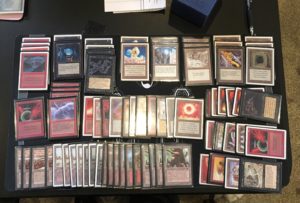 Marcus Pobloske – Stasis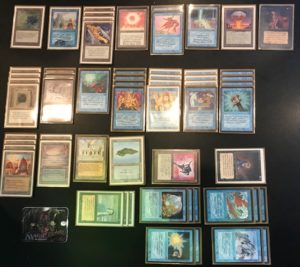 Brandon Radke – RB Ponza Troll Disco (unpowered)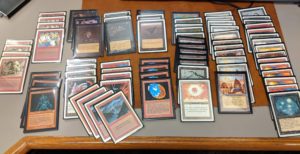 Michael Angelo Russo – Mono-Blue Artifacts Control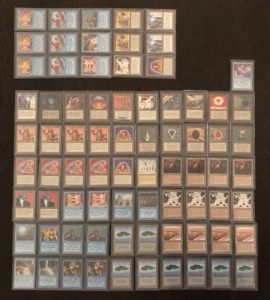 Jeremy Seversen – The Deck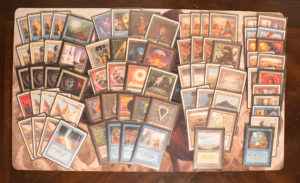 Stevi Shively – 4C Ring of Fire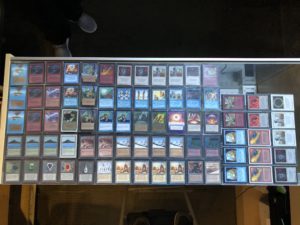 Jon Tschida – UWB Skies Control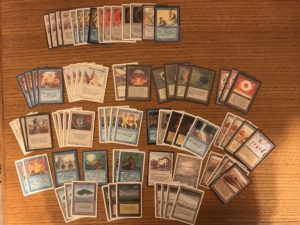 Ryan West – Mono-Red ATog Aggro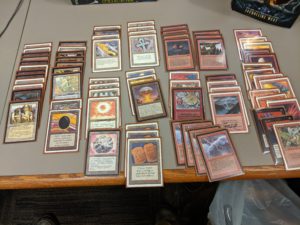 Snapshots from the Tournament
Pre-Tournament hanging out at the restaurant across the street!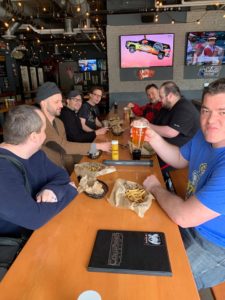 Marcus is putting the grip on the board with his Stasis deck!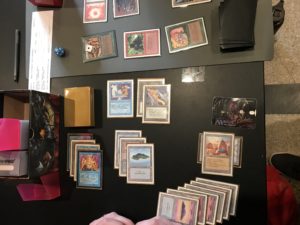 This is not good news when you see a Guardian Beast and Disk in play.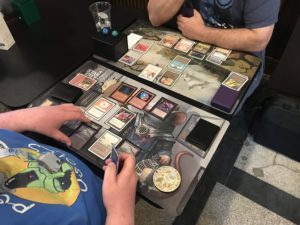 That Birds is looking mighty valuable after a Blood Moon hits the board.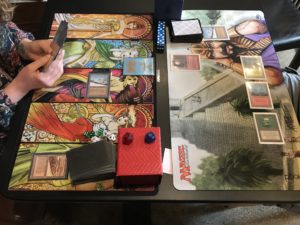 Deciding the match with Chaos Orbs?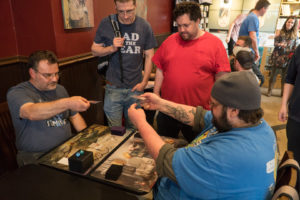 Paladins lounging between rounds.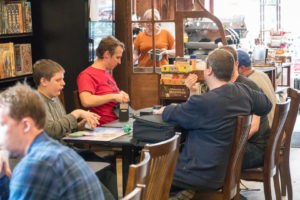 David's Vise, Mine, and lands don't look great against Joseph in this board state.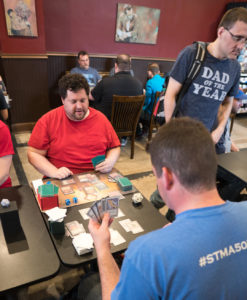 RG Beats against Mono-red Atog Aggro.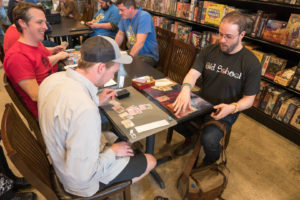 Tony has a lot of mana, but Colin seems in control with a played Ancestral and a hand of blue.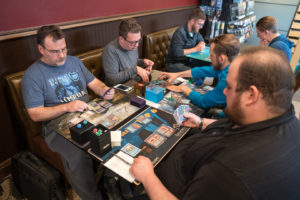 Tom's Abyss, Scepter, and two Vises does not bode well for Stevi.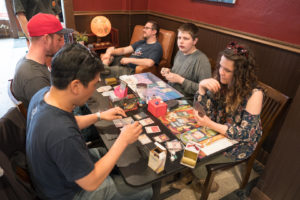 Cameron's board of creatures seems to be favored against Jeremy.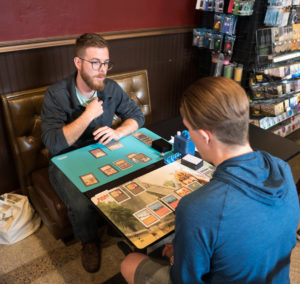 Relaxing at Thai restaurant Roat Osha after an amazing tournament!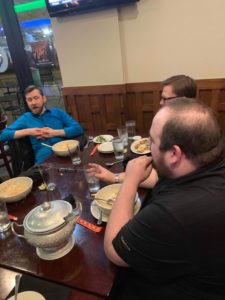 Looking Ahead
Our Northern Paladin group plans to host quarterly tournaments, so be on the lookout for our next event in three months — MORE DETAILS TO BE ANNOUNCED SOON!  We also ask you to SAVE THE DATE for August 8-11, where the Northern Paladins will be joining the fun at Grand Prix MINNEAPOLIS and hosting fun Old School get-togethers that weekend including a private party on August 8.   Contact Joseph Freshwater for more details!
As a reminder, we host our Tuesday night Old School Gauntlet at Universe Games at 6:45 with FREE entry and weekly prizes and games are streamed on our Twitch channel: https://www.twitch.tv/northernpaladins
Last, if you're interested in joining our worldwide monthly Skype tournaments, please contact Joseph Freshwater or Dave Holler.