On Sunday, August 11th, the Northern Paladins hosted their fourth Old School 93/94 tournament, the Summer Savannah!  This tournament was held at a new location, the Minneapolis uptown VFW.  This was an awesome new venue with a lot of open space and tables, a huge screen for projecting standings and time, and best of all, restaurant food and beverages!   Yes, that included a variety of great taps at VFW happy hour prices.
A huge, huge thanks to tournament organizers Michael Angelo Russo and Joseph Freshwater!   You couldn't miss Joseph's wide shout out to communities across the world to showcase our event.  Angelo is the designer behind all our NP altered prizes, and he also graciously sat out this tournament to run the event.  I got to reap so much fun out of this event due to the generous time contributed by these two and other faithful Paladins.
This tournament gathered 29 players.  We had 5 rounds of Swiss, and rules were Eternal Central 93/94.  Entry fees went towards the rental hall, prizes, and $167 towards our charity effort called Paladin Backpacks!   Michael Gross and Joseph Freshwater are leading efforts to build backpacks full of supplies and deliver them to local homeless people, providing these people with comforts and necessities that we all take for granted and showing them that people do care.
ALL participants received a NP altered Savannah Lion, each one with the 2019 commemorative event text inscribed on them.
The top prizes consisted of an Unlimited Shivan Dragon for 1st place and a Savannah for top unpowered.  These cards were generously donated by Joseph and Shon Shulte.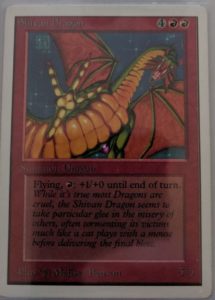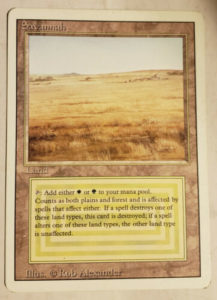 Other special NP card awards were given out to numerous other categories!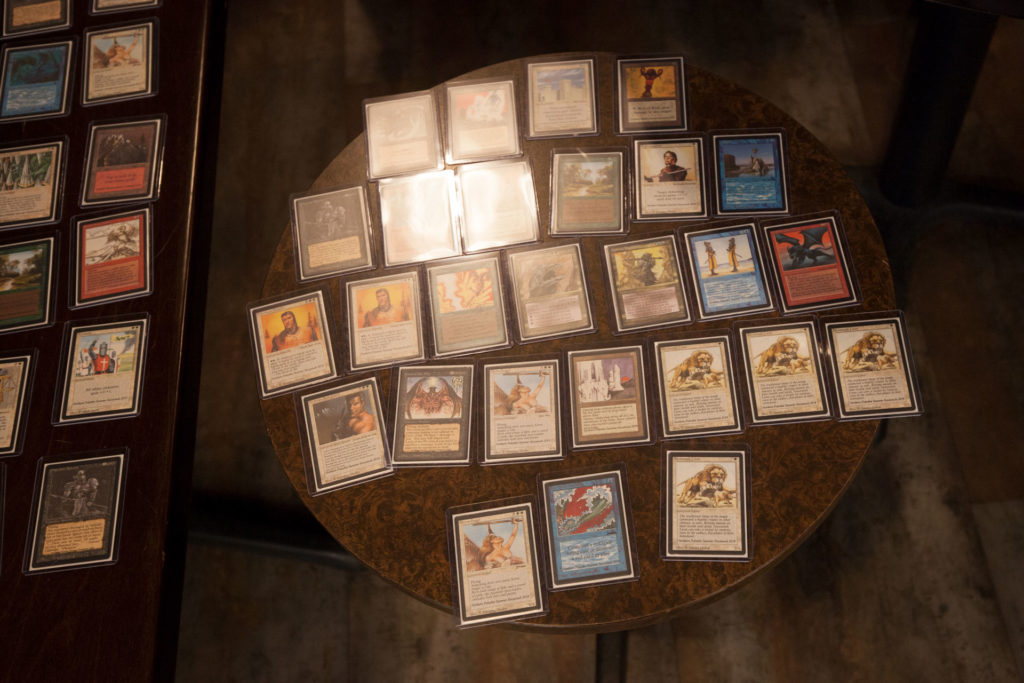 Six amazing signed prints and a couple altered cards (see below) were RANDOMLY handed out to participants!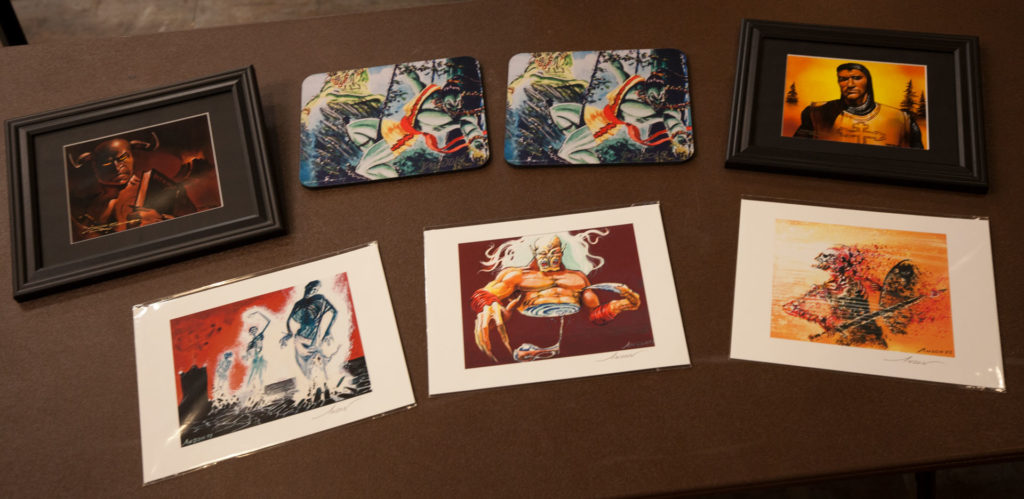 Dustin Brossard won an oversized Shivan Dragon signed by all participants!
FINAL STANDINGS

AWARDS
The winner of the tournament was Michael Gross, bringing his unique take on Tax Edge.   In addition to the typical red and white cards in this deck archetype, Michael's deck used green for Sylvan Libraries and Regrowth.  With added Libraries of Leng and Ivory Towers, once this deck gets going, it gains life faster than any aggro deck can keep up, and it can use that life for churning through the Sylvan Library.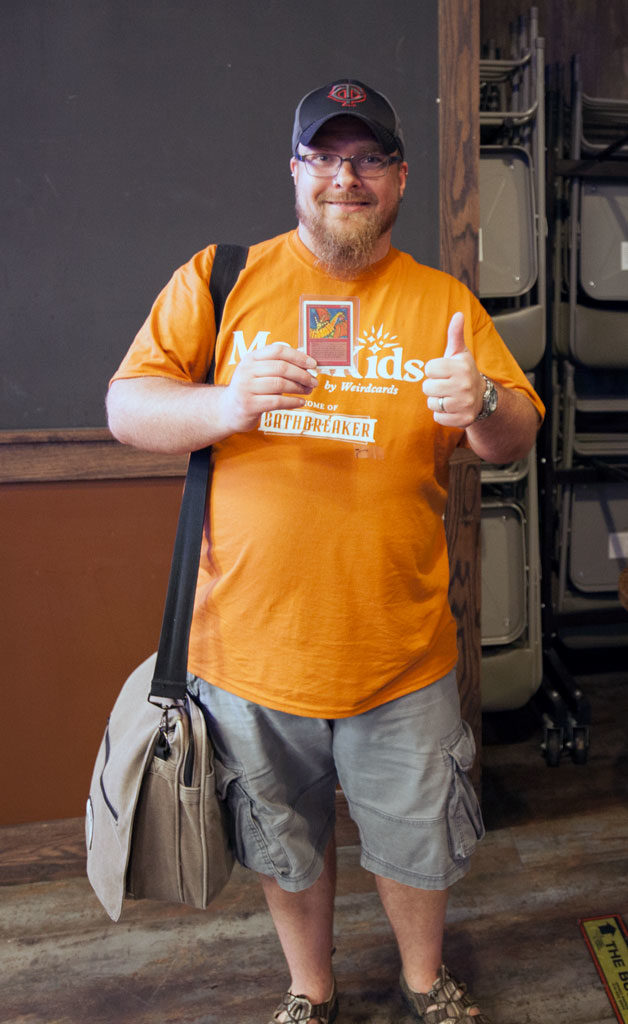 Rounding out the top 4 at 4-1 were Jeremy Severson, Kevin Berg, and ME!  Jeremy played a "Deck"-ish creation that included the usual restricted goodies, Jayemdae Tomes and Factories and Serra Angels for beaters.  Both at 4-0, Jeremy and Michael played for all the marbles, but Jeremy's counterspells and disenchants could not keep up with Michael's land tax engine.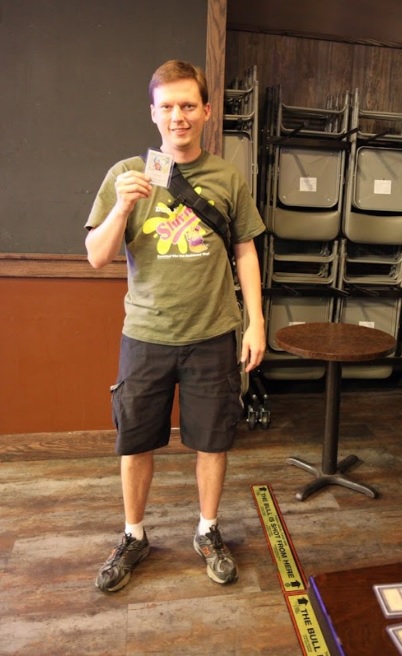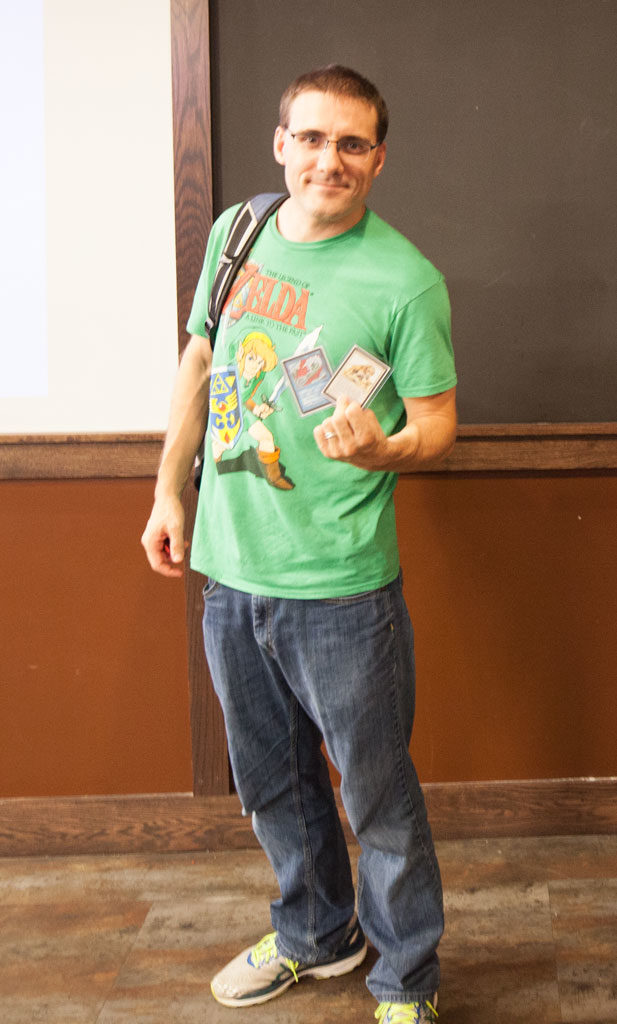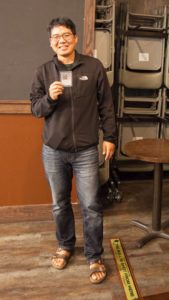 Kevin played an aggressive RUG Arabian-type Aggro deck with 4 Kird Apes, 4 Dibs, 2 Ernhams, a ton of burn, and unique additions of channel/fireball/disintegrate and a couple main deck blasts!  I'm so used to Kevin playing The Deck, that I was shocked to see his lightning fast deck, but he performed well with it to a 4th place.  I played "Queen of the North", my aggressive Lich combo deck that included a playset of Dark Rituals and two Initiates of the Ebon Hand to allow early Lich plays.  My apologies to the players that had to watch me play solitaire, but the Lich/Fastbond/Dark Heart combo into Time Walk/Mirror Universe is the closest thing we have to the Vintage Perfect Storm in this awesome Old School format.  And the imagery of myself as a mage transforming into a Lich that feeds on life is too cool!
Top Unpowered Deck – Nolan Becker.   His BR Troll Burn-Up deck may have been unpowered, but it was pretty sight to see with a ton of black bordered goodness.   It sort of looks like Troll Disco but with added land destruction, Hyppies, and a solo Mr. Juzam.  With three moons in the board, this deck would be very punishing to greedy mana bases!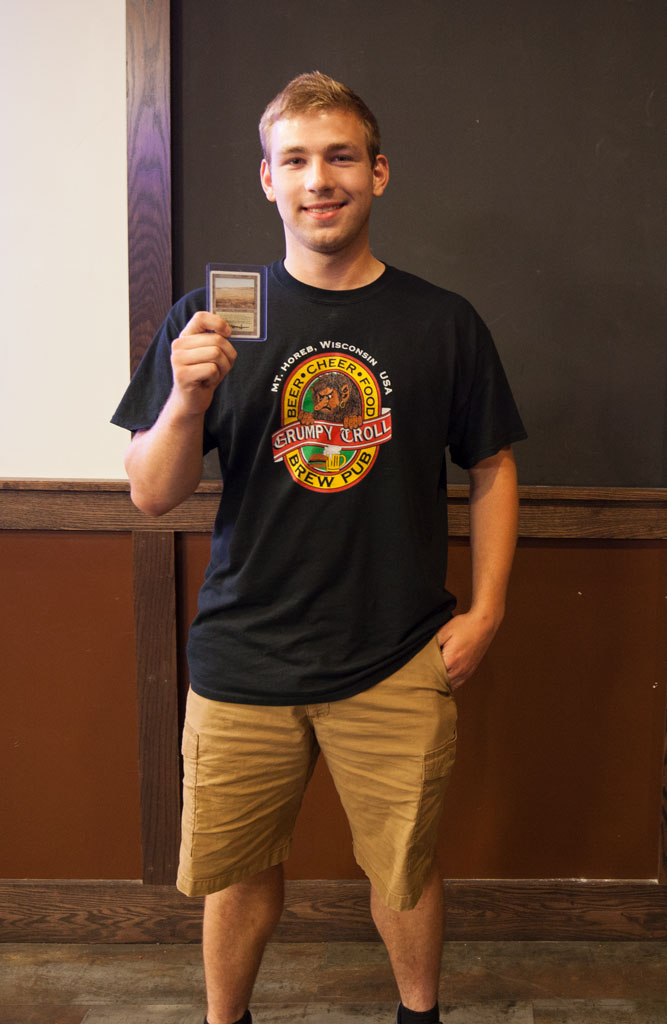 Most Creative – Dane Malone.  Dane brought a BR Candleflare Surge creation with Mana Flare, Power Surge, Rainbow Vales, and a Candelabra of Tawnos.  The idea of this deck is to get Mana Flare out, with one win condition being a fireball/disintegrate for a wallop of damage.  The cooler win condition uses Power Surge and force the opponent to either tap lands and take mana burn or take damage from Power Surge from leaving them untapped.  The Rainbow Vales give the deck color flexibility but also forces more Power Surge damage to the opponent.   The maindeck Blood Moons serve double duty with mana denial and for Power Surge.  Super cool!!!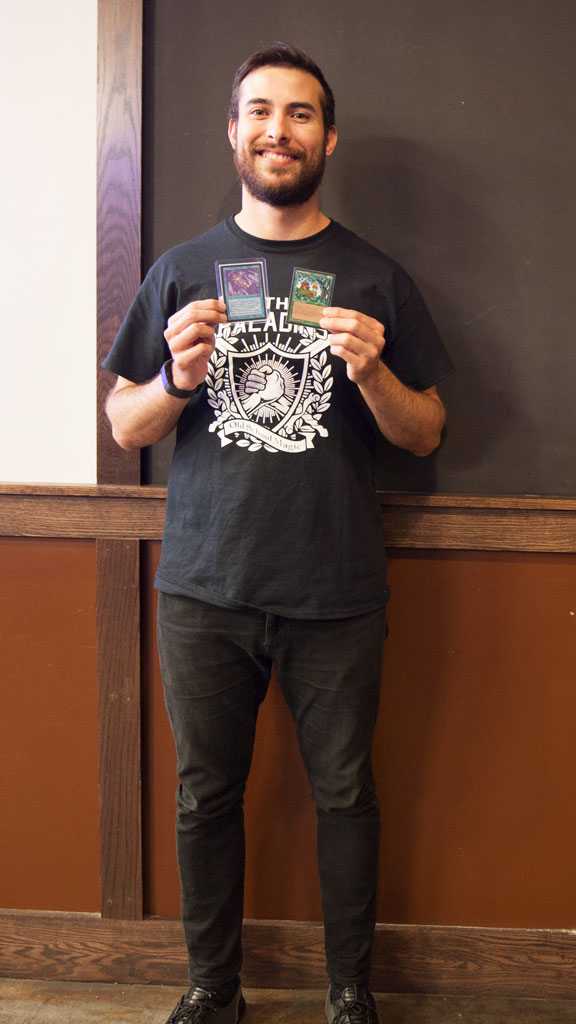 Paladin Spirit Awards – Colin Mierowitz and Jon Tschida, for their contributions to the community and their help with tournaments, prizes including this Summer Savannah!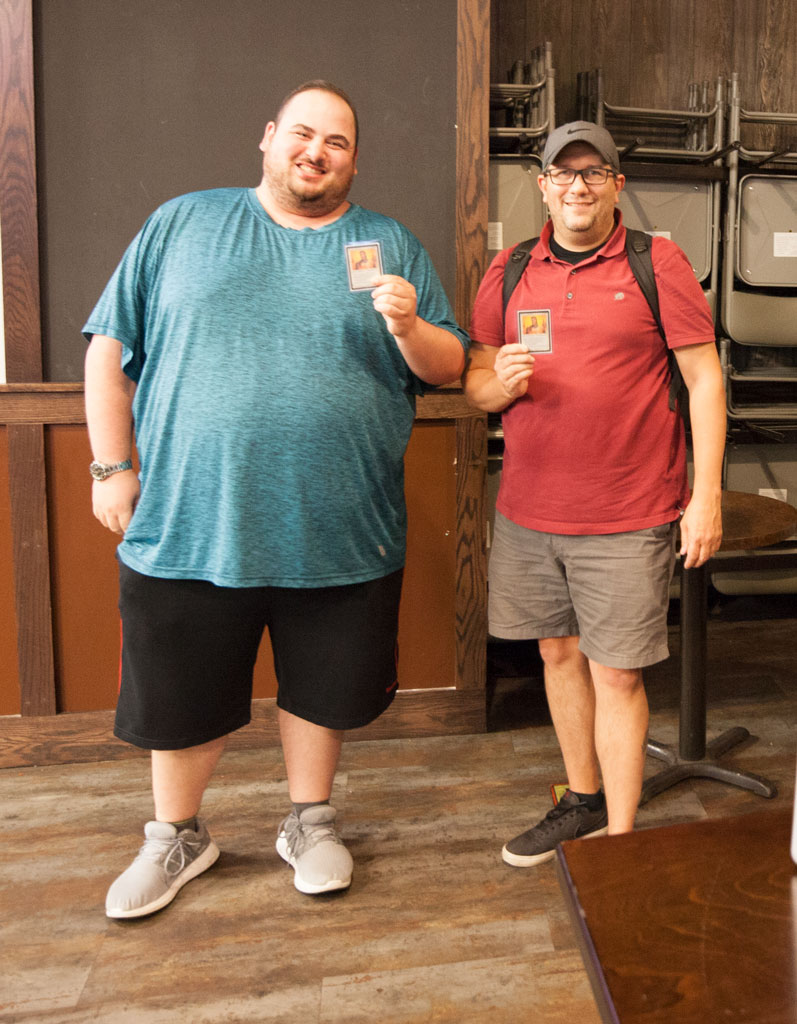 DECKLISTS
Below are the decklists in alphabetical order by last name.  We had a great variety of decks, though monoblack was once again was a popular unpowered decks at five decks.   We had ELEVEN unpowered decks, with Nolan finishing 4-1!
Unique creations (not already mentioned above) included:
deck using every black, white, and artifact Quinton Hoover card
monobrown artifact deck with no sideboard
100 card deck that can really do everything including make minor demon tokens
deck with 4 maindeck Force of Natures
Stasis deck requiring a 5-card combo.
Take a look at the decklists and find them!
Harrison Baxter – 4C Aggro Control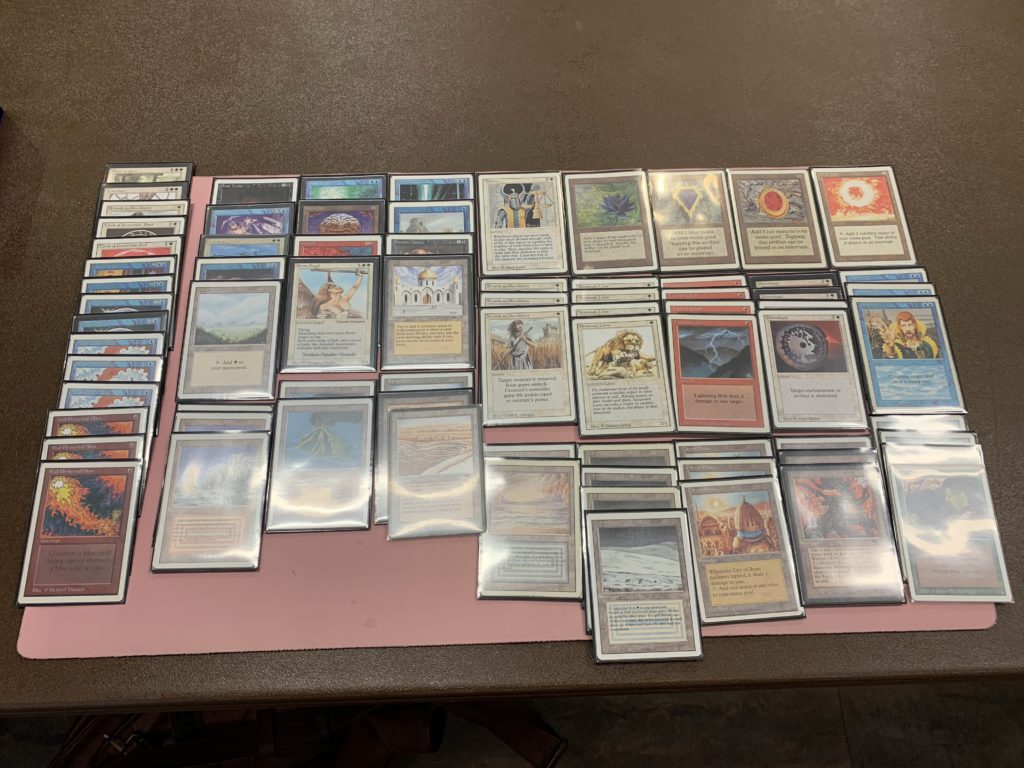 Nolan Becker RB Troll Burn-Up (unpowered)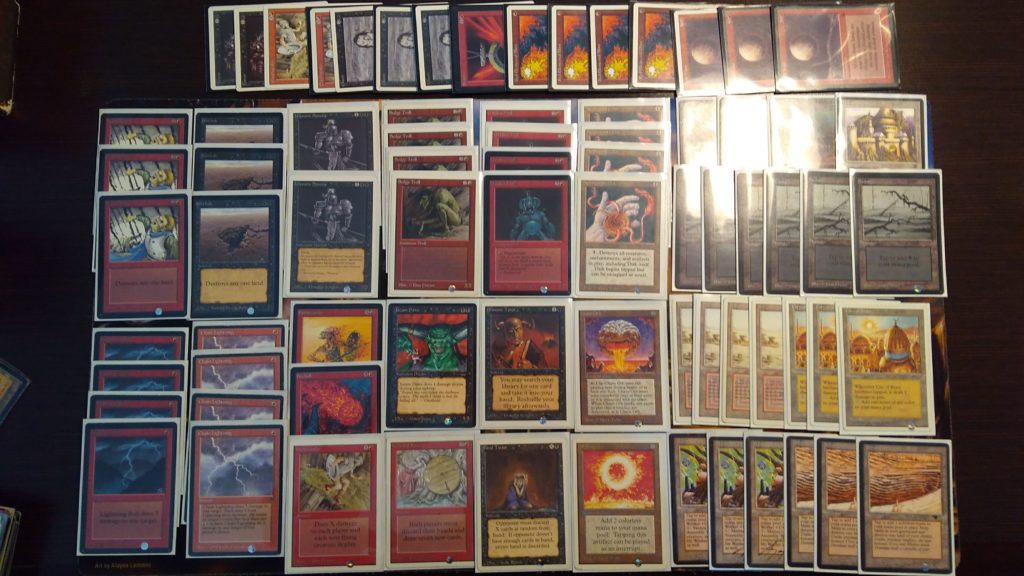 Cameron Beebe WB Hoover Remover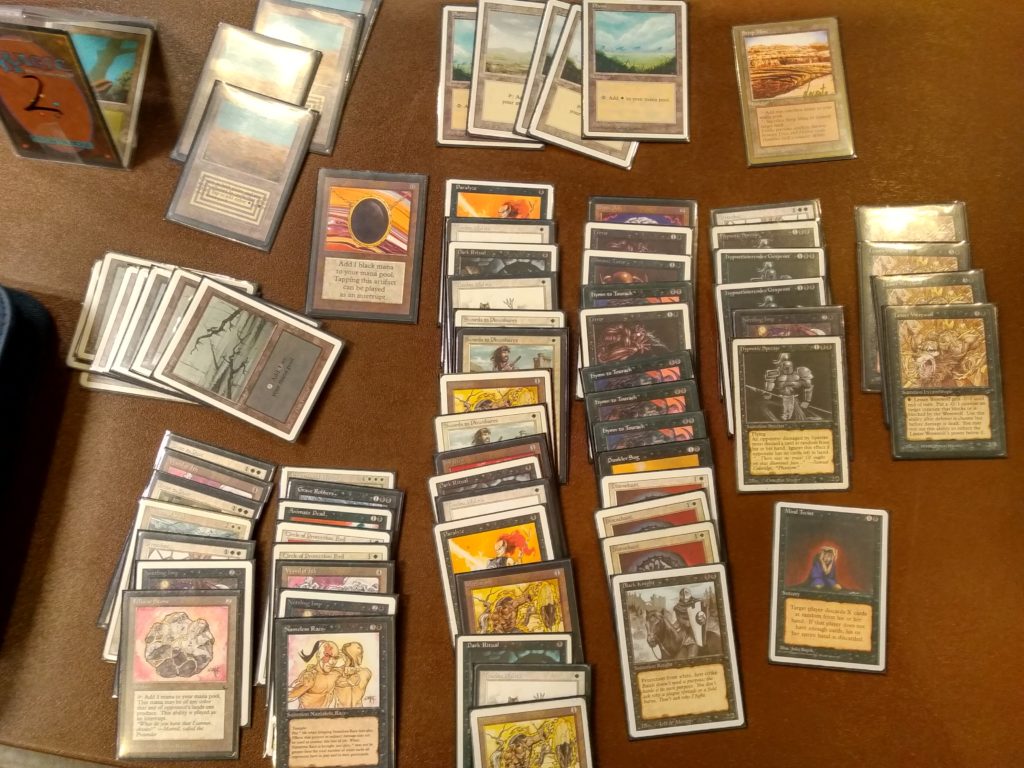 Jordan Berg Mono Blue Shops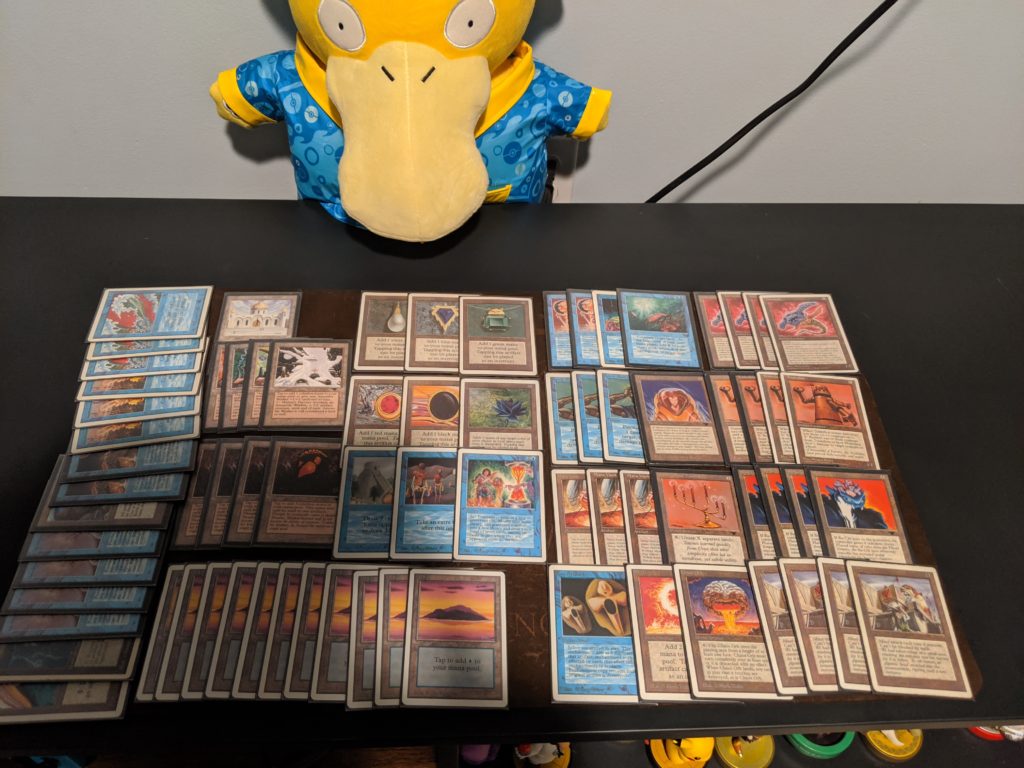 Kevin Berg – RUG Aggro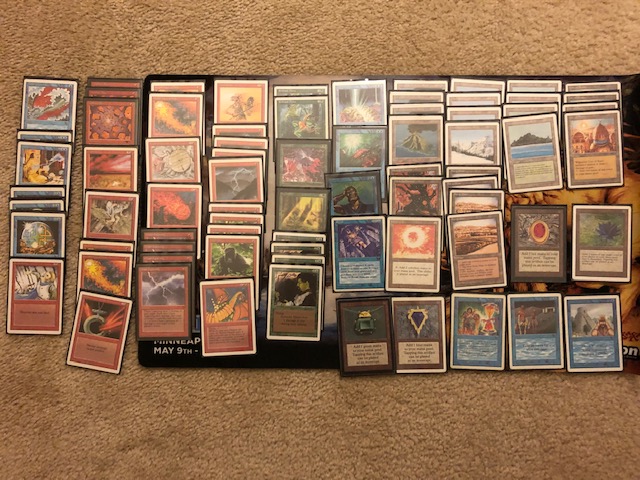 Dustin Brossard – White Weenie (unpowered)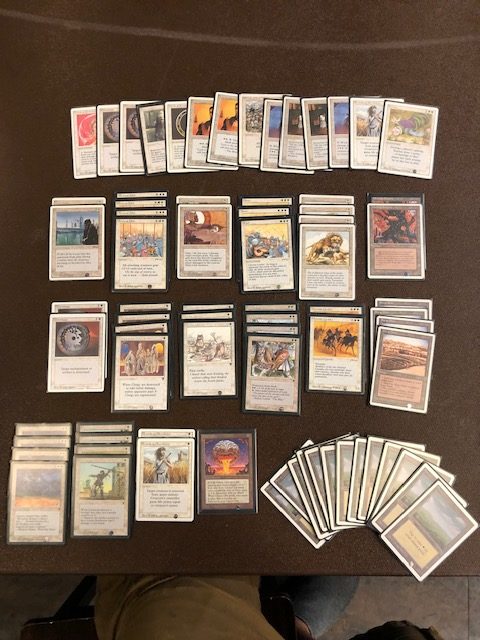 Saul Clayman – Mono-Black Rack Aggro (unpowered)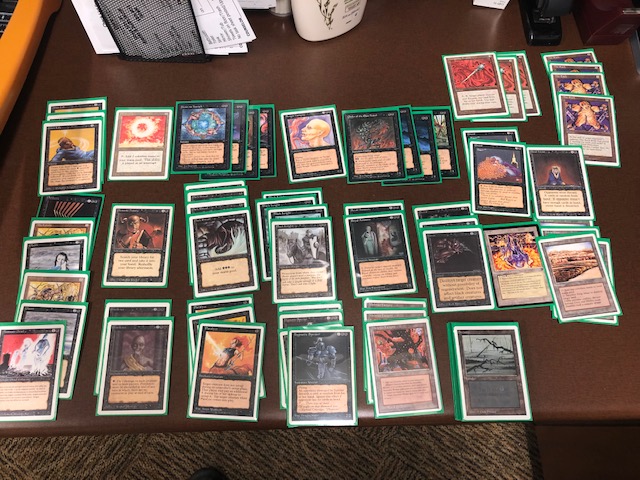 Arron Dicks – Pink Weenie (unpowered) – ouch to greedy mana bases, 4 maindeck blood moons and 3 shatterstorms!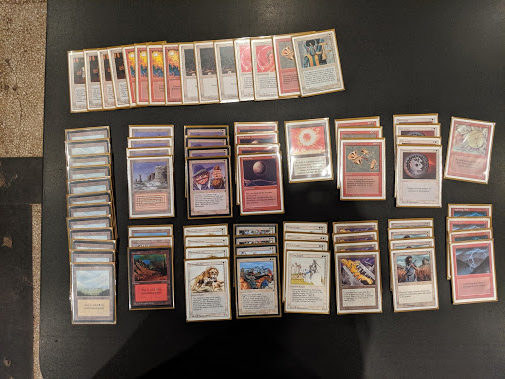 Dana Drew – RGW Aggro (unpowered)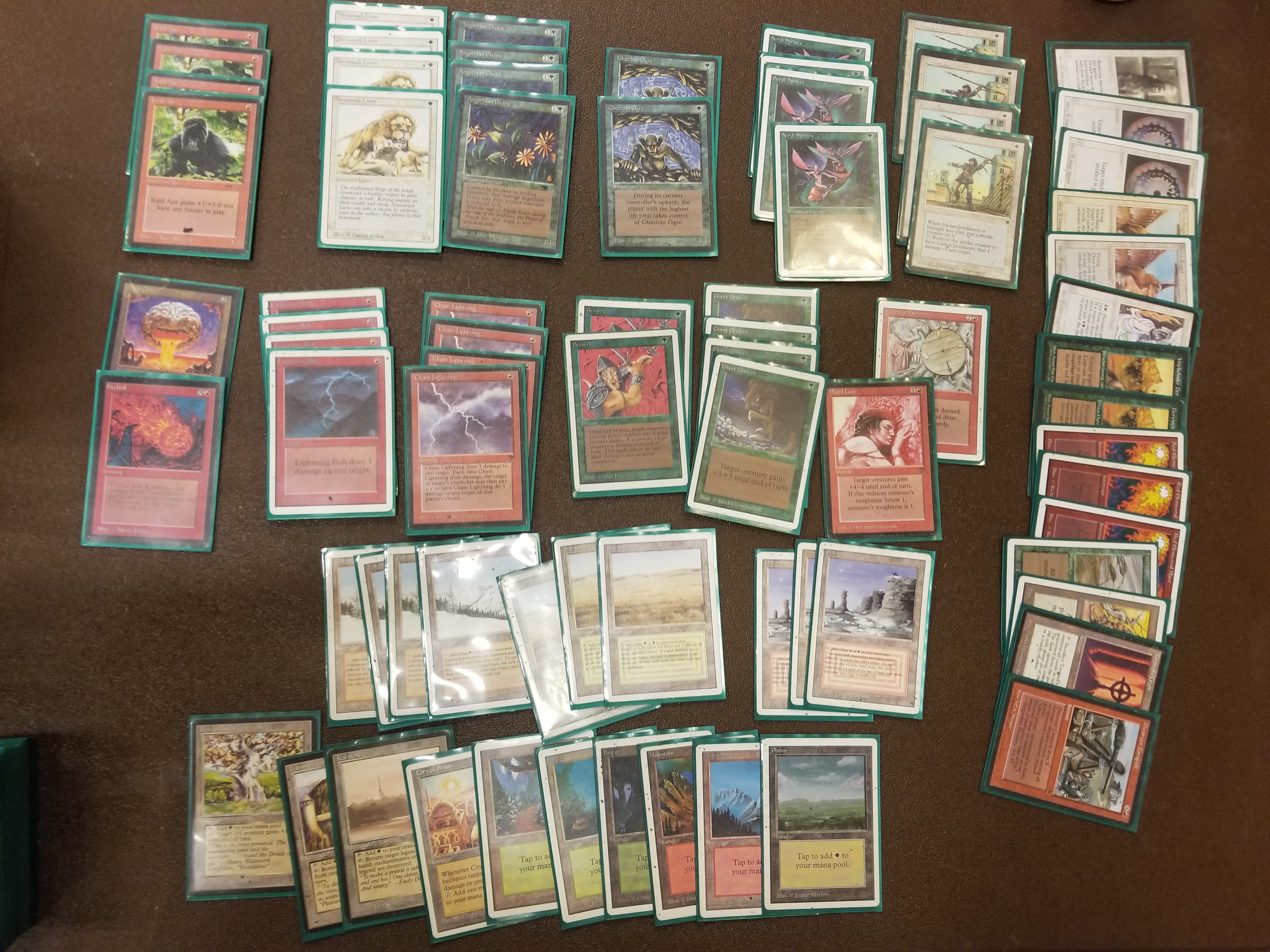 Justin Halberg WRG Everything (Unpowered) – I wish we had a better picture!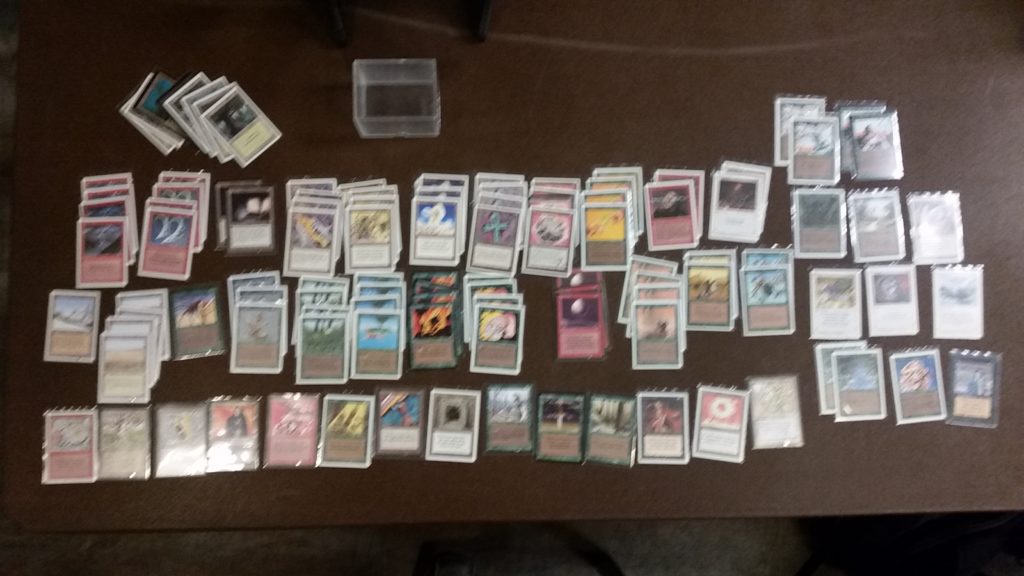 David Hollar – WUG Aggro (Bantam Geddon)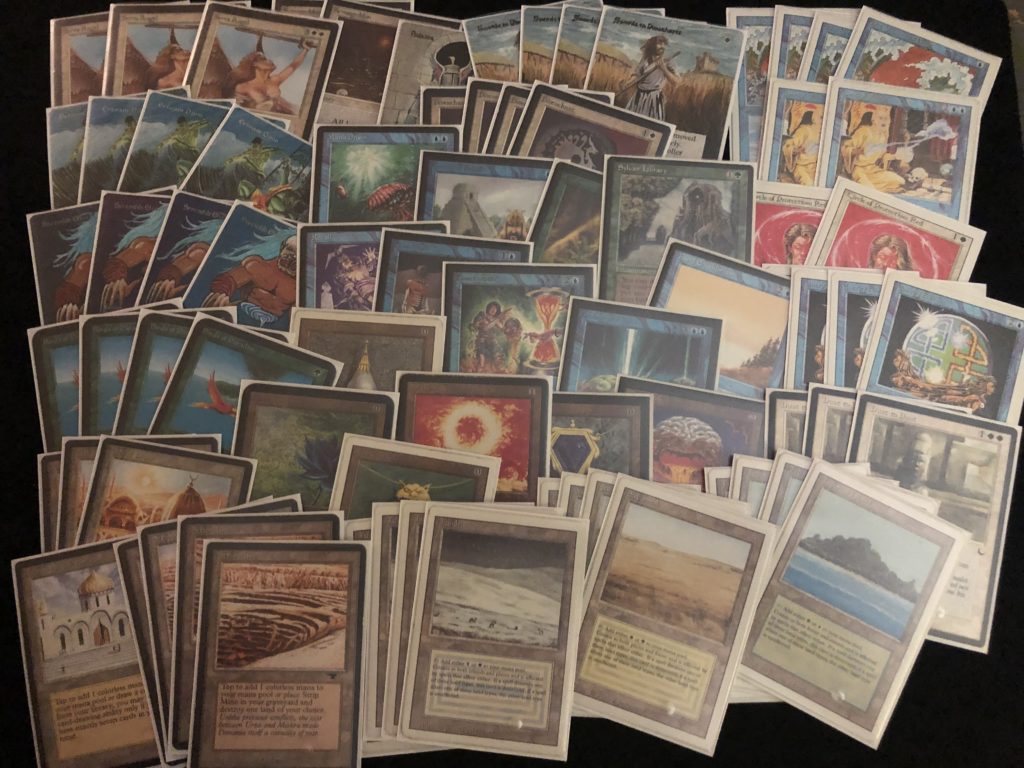 Alisa Farenzena Monoblack Aggro (unpowered)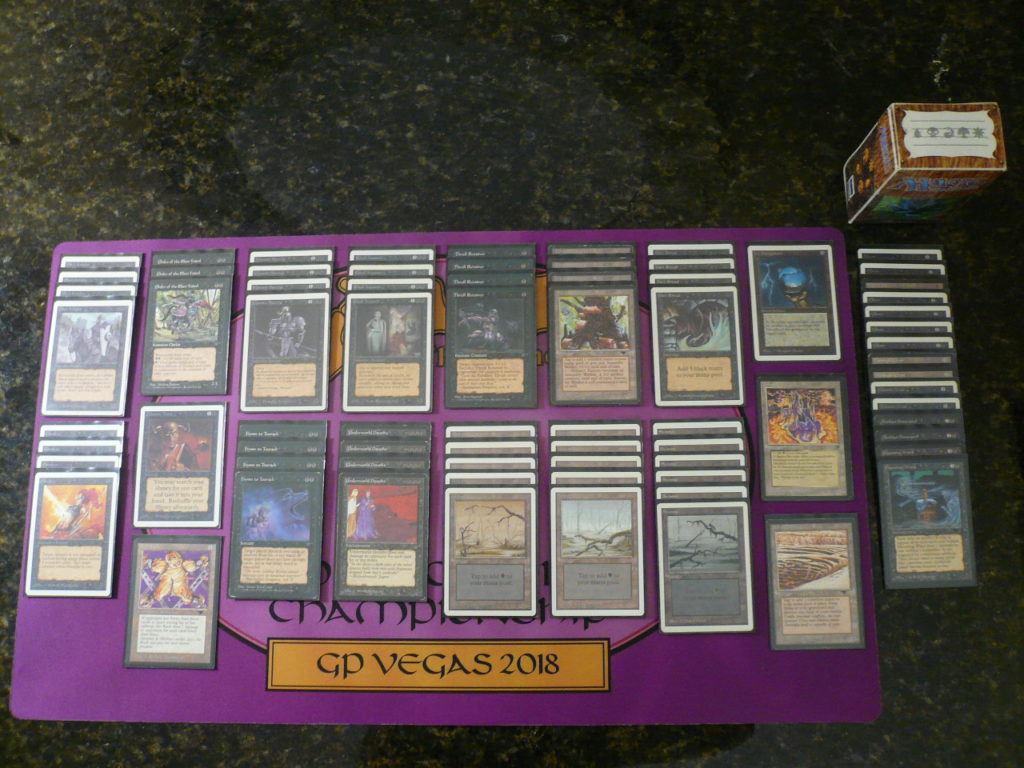 Joseph Freshwater – UB Thrull Time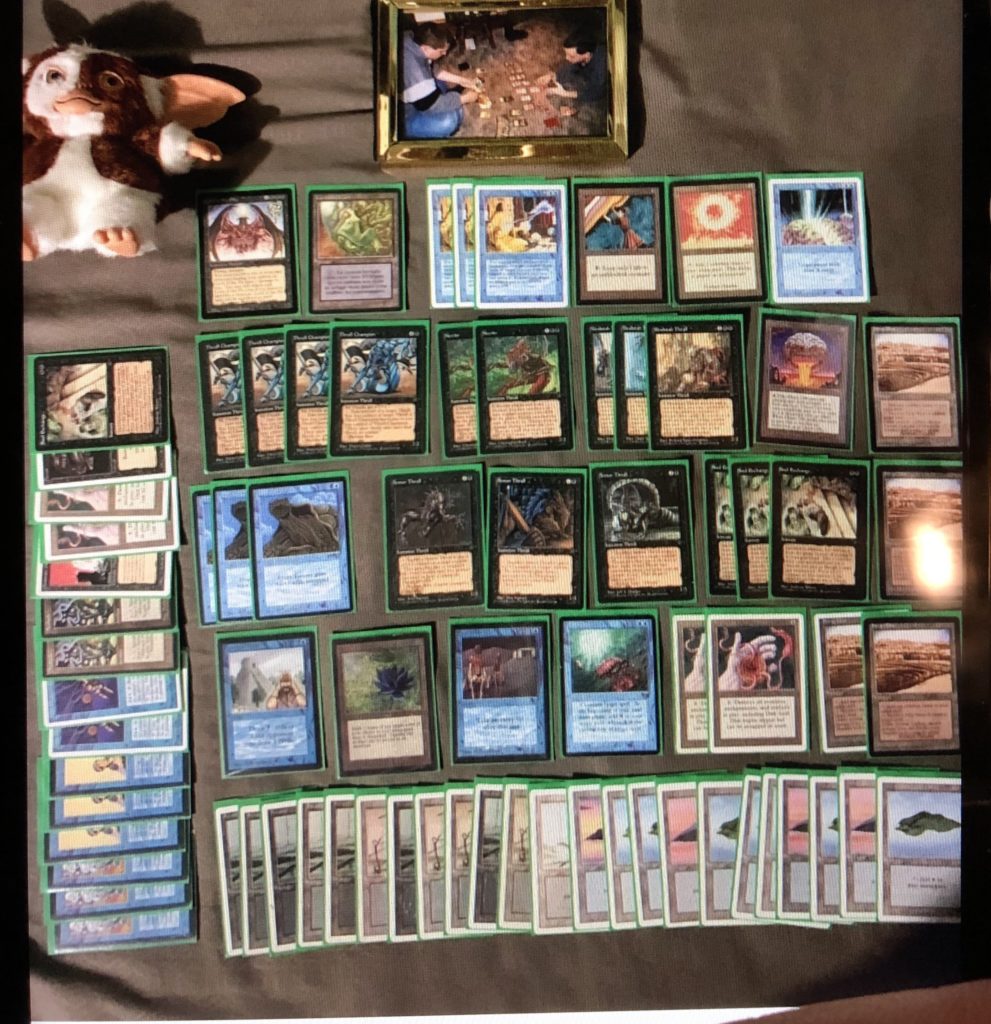 Michael Gross –  WRG Tax Edge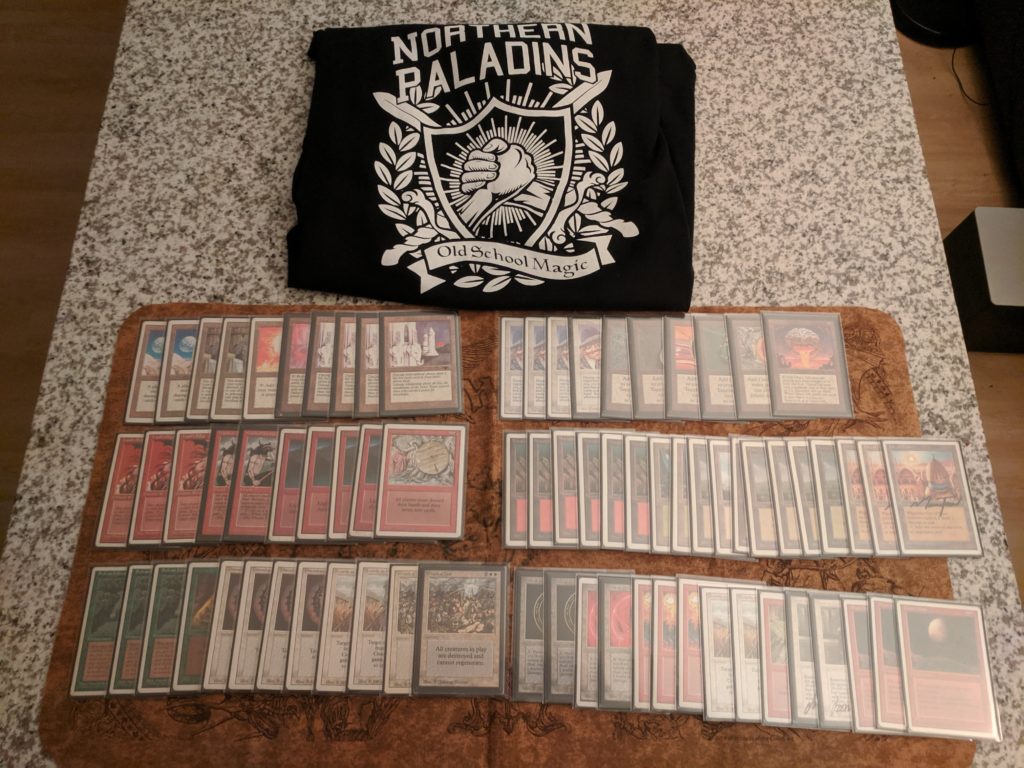 Dan Hyland – Monobrown Beatdown with NO SIDEBOARD!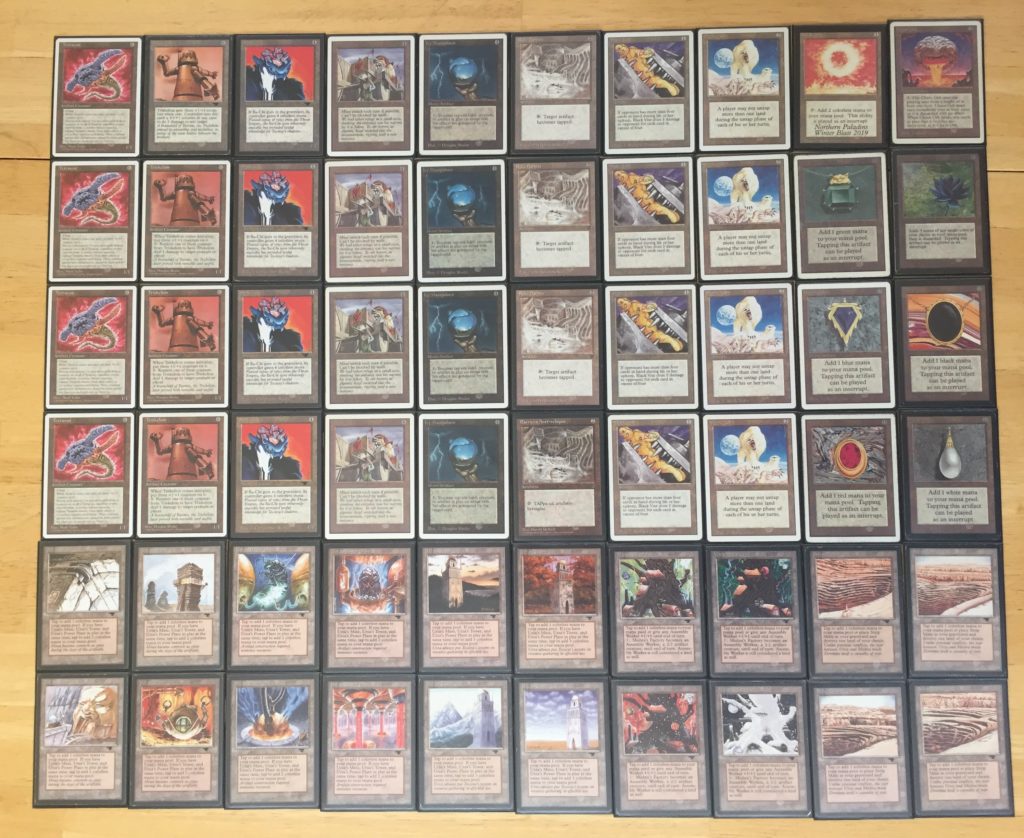 Meagan Hyland – Mono Black Rack (unpowered)
Jeremy Jones – 4 Beast Orb Control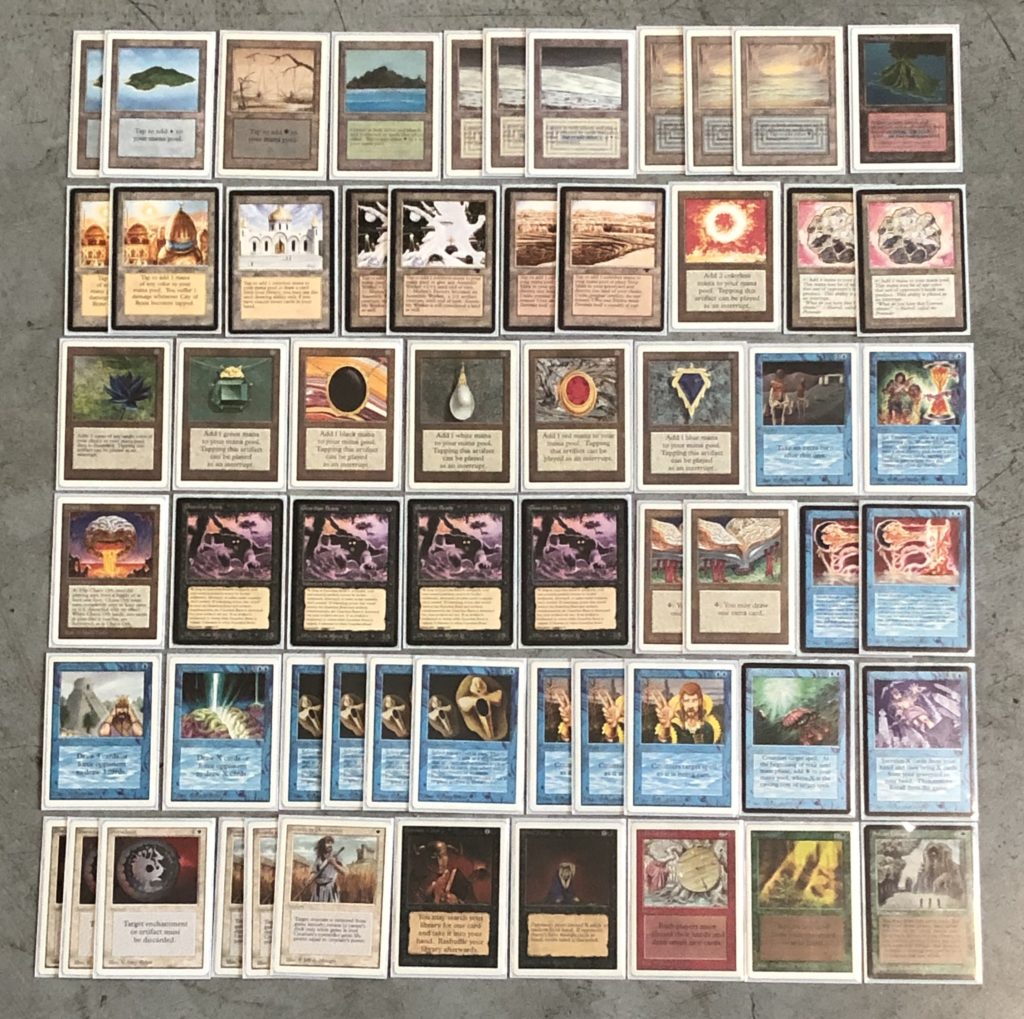 Tom Lee – Queen of the North (Lich Combo)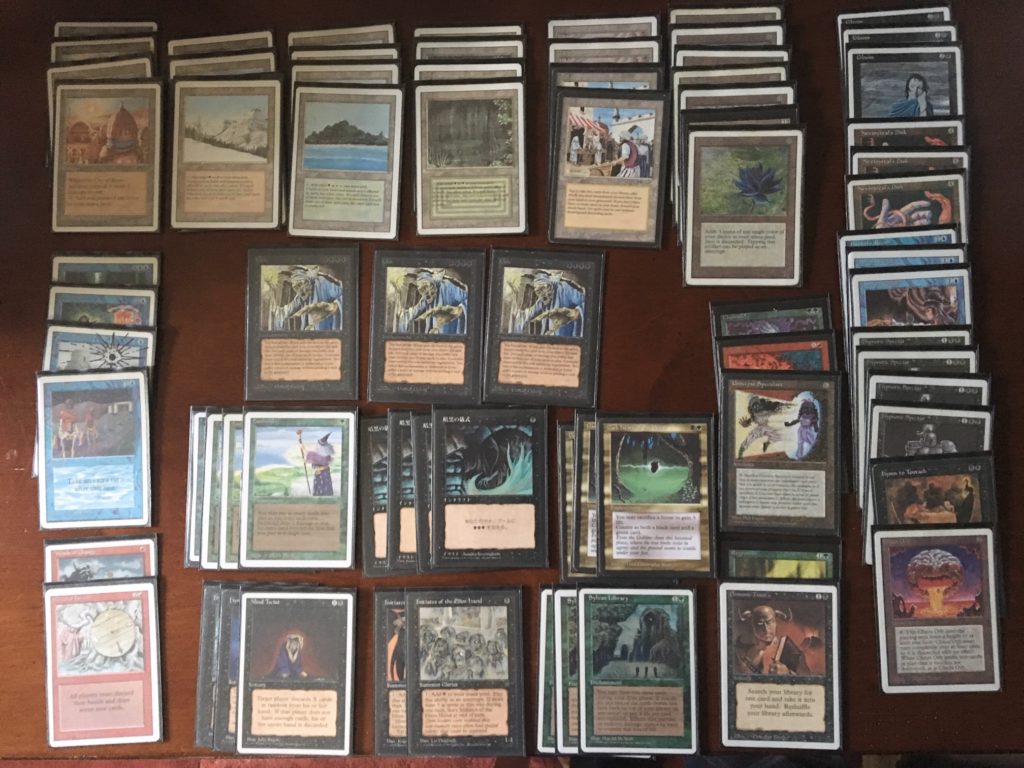 Adam Luchsinger – Monoblack Aggro (unpowered)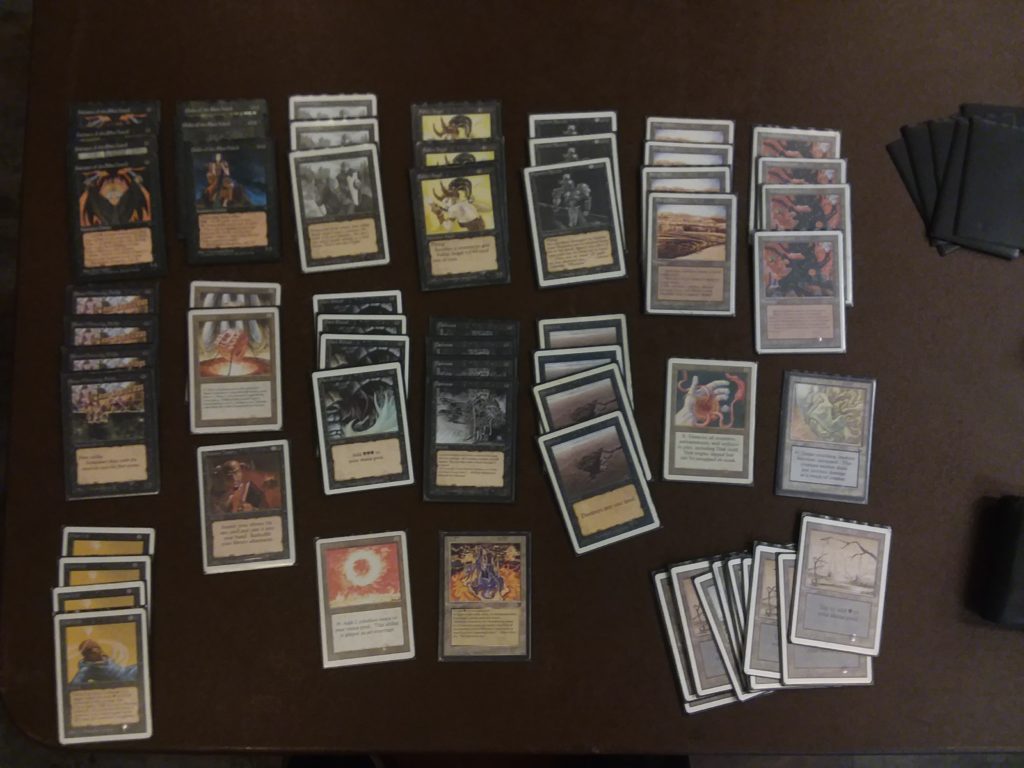 Dane Malone – Candleflare Surge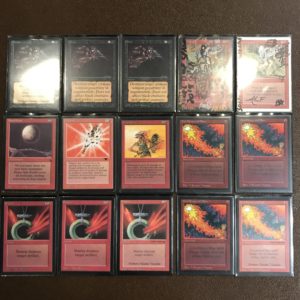 Ethan Meirovitz – Mono Black Aggro (unpowered)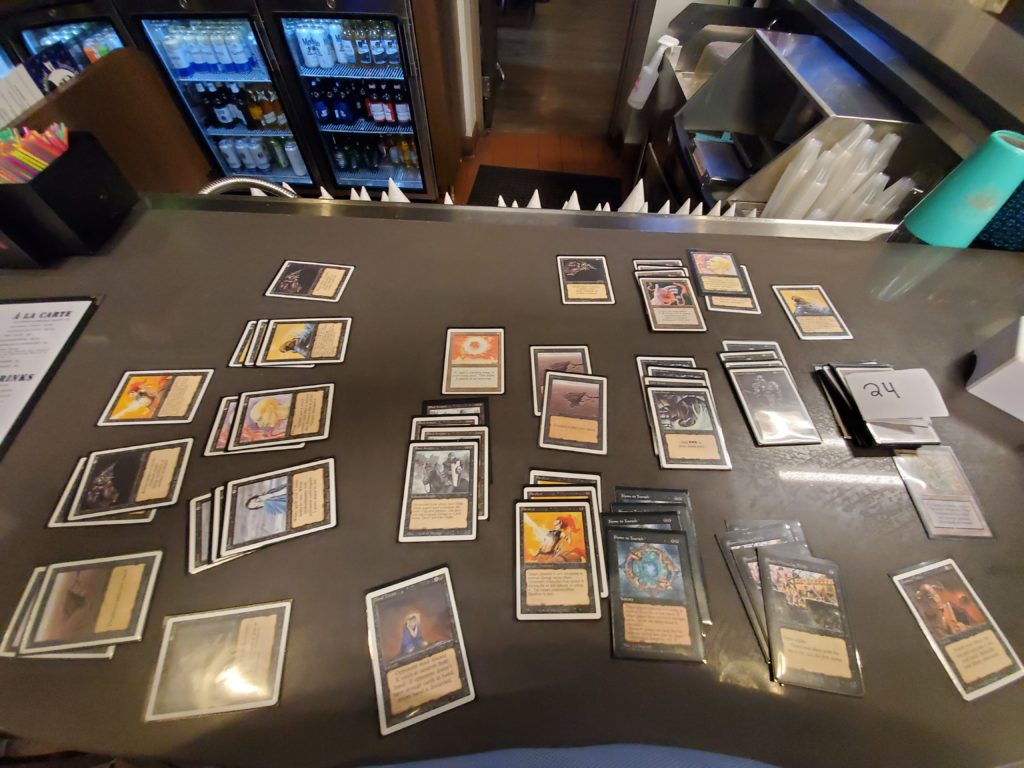 Colin Mierowitz – Monoblue Aggro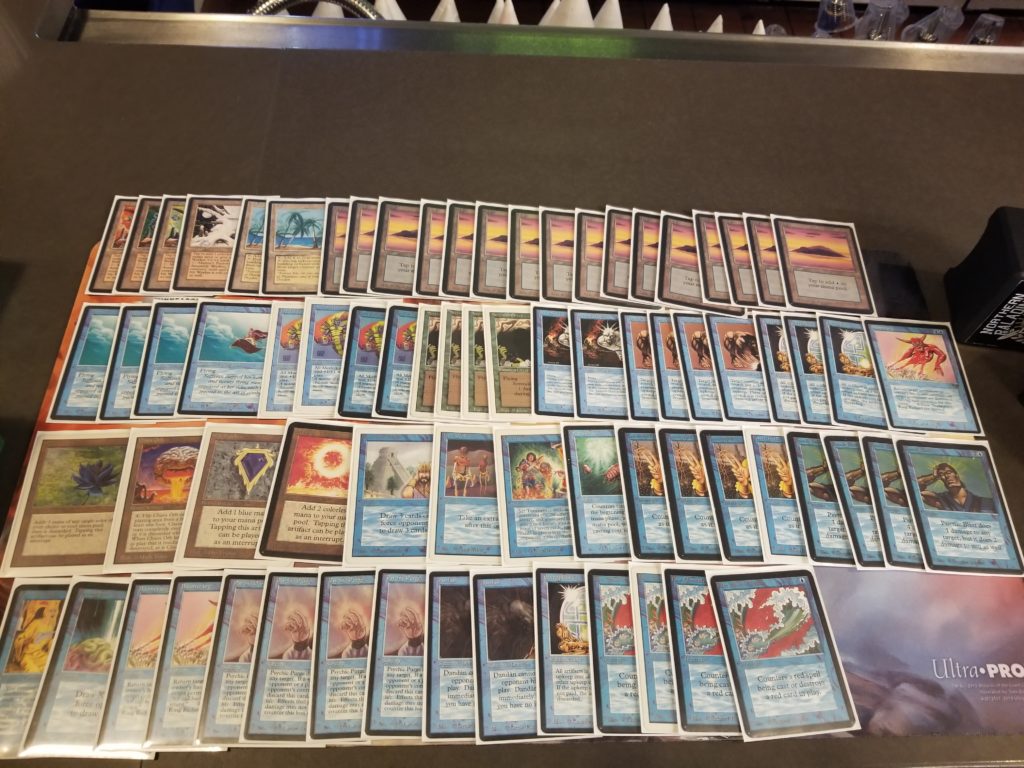 Marcus Pobloske – 5C Stasis Enchantress – yes, Stasis, Kismet, Birds of Paradise, Island Sanctuary, and Instill Energy!  I got to witness Marcus assemble this amazing combo only to lose the game because he missed a Chaos Orb to destroy an opposing mana source.  Such is Old School!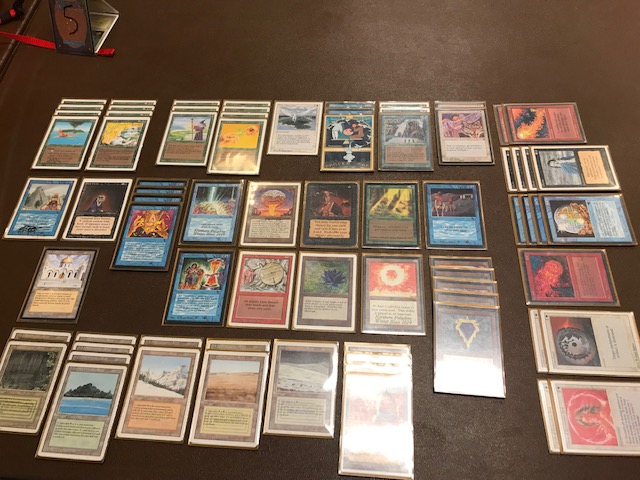 Shon Shulte – wUB Aggro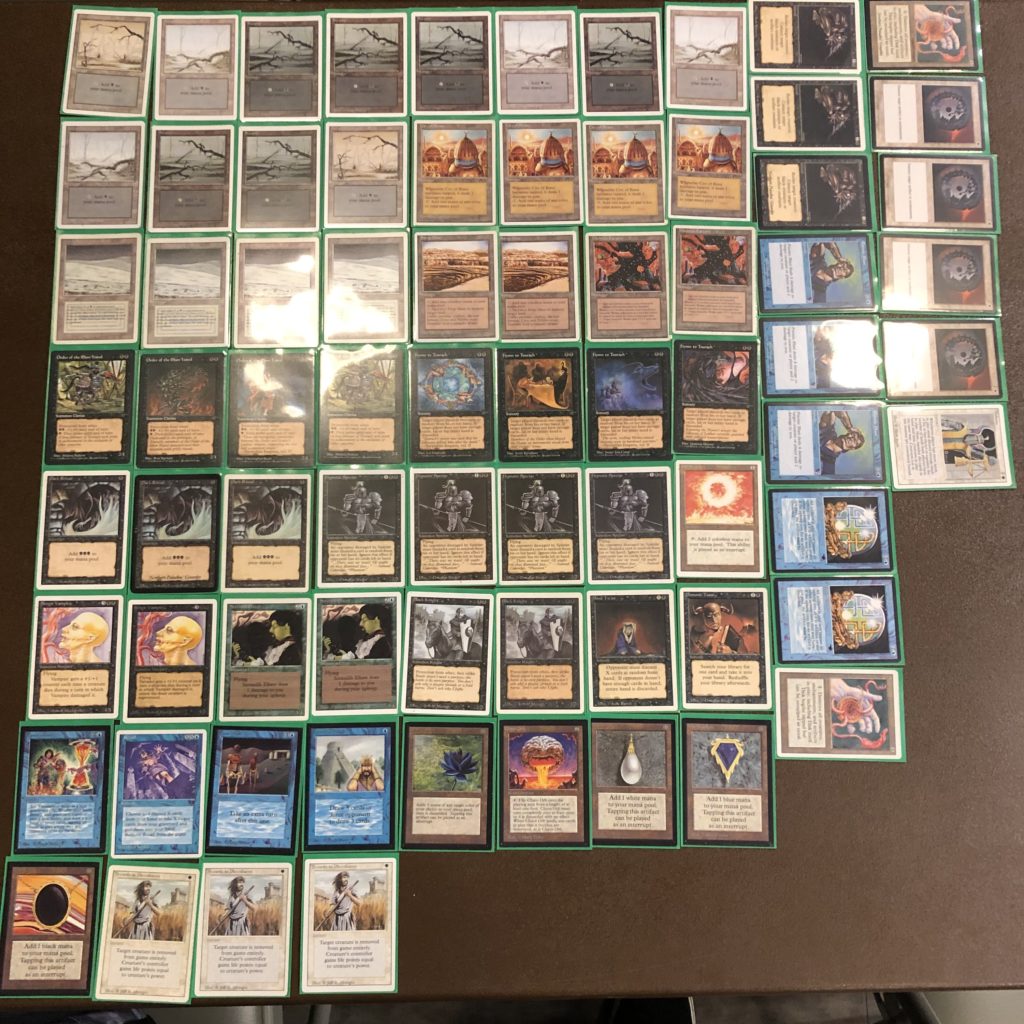 Jeremy Severson – WUBr Control ("The Deck"-ish)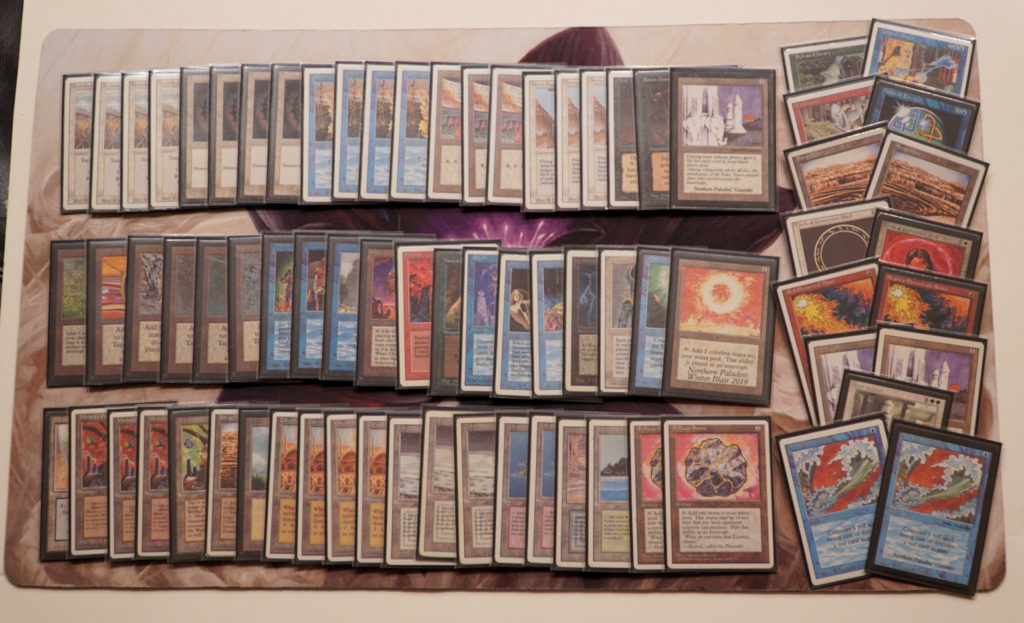 Stevi Shively – 3C Ring of Fire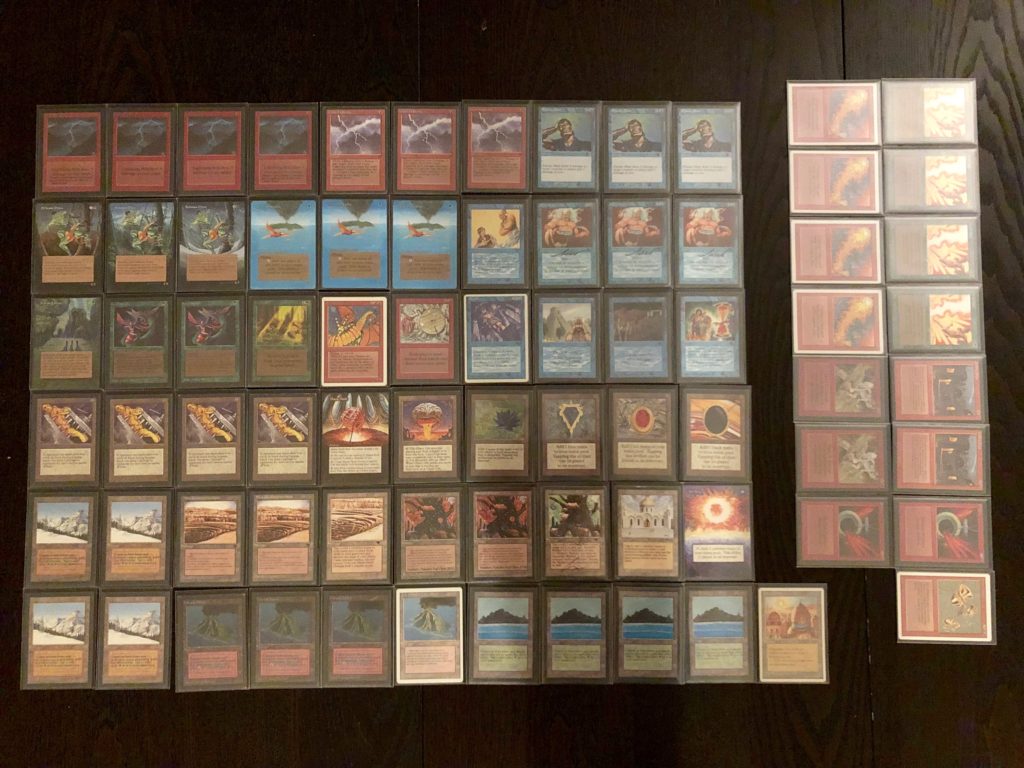 Jon Tschida – WUb Aggro Control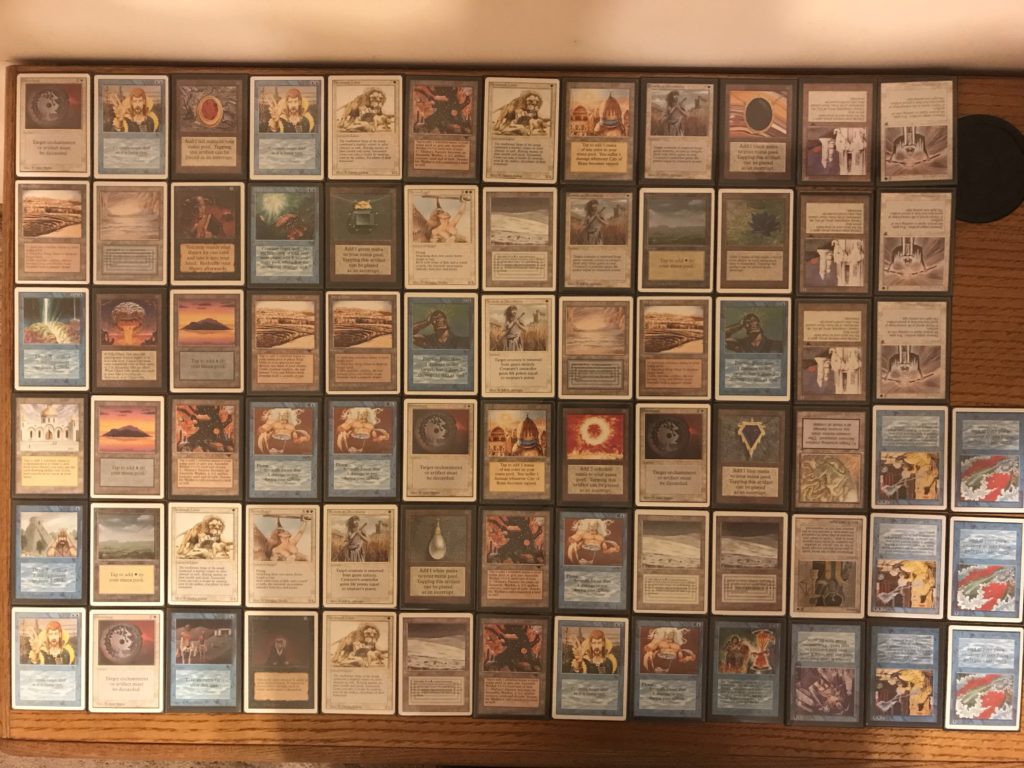 Joe Vanbladed – BR Troll Disco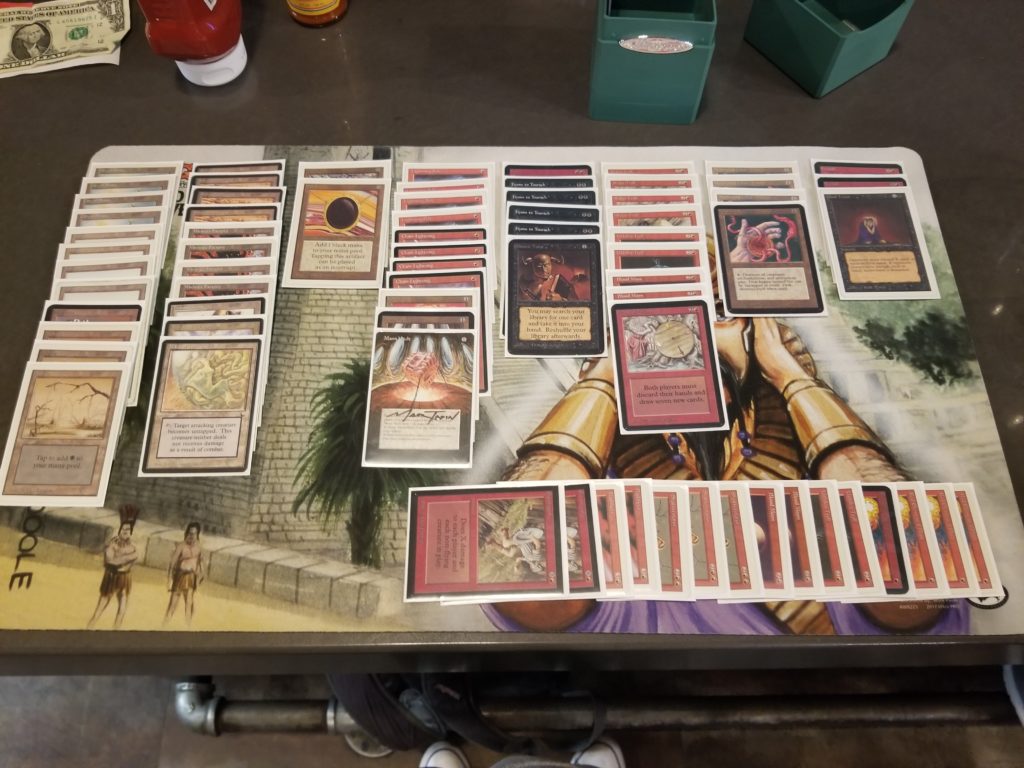 Will Weatherhead – Green Brown Town (unpowered)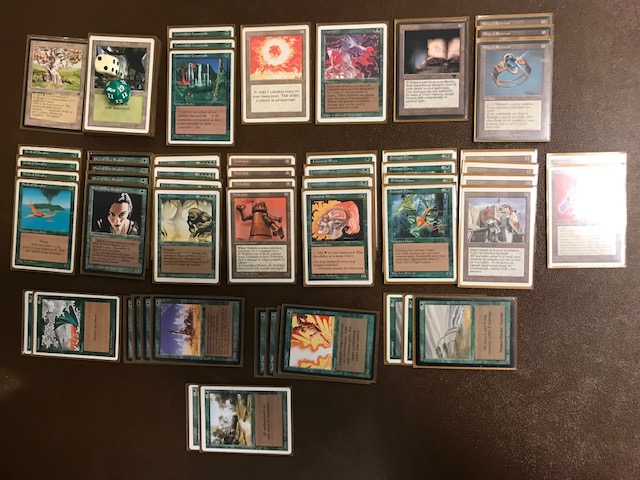 Pictures from the Event
Joseph announcing the start of the tournement!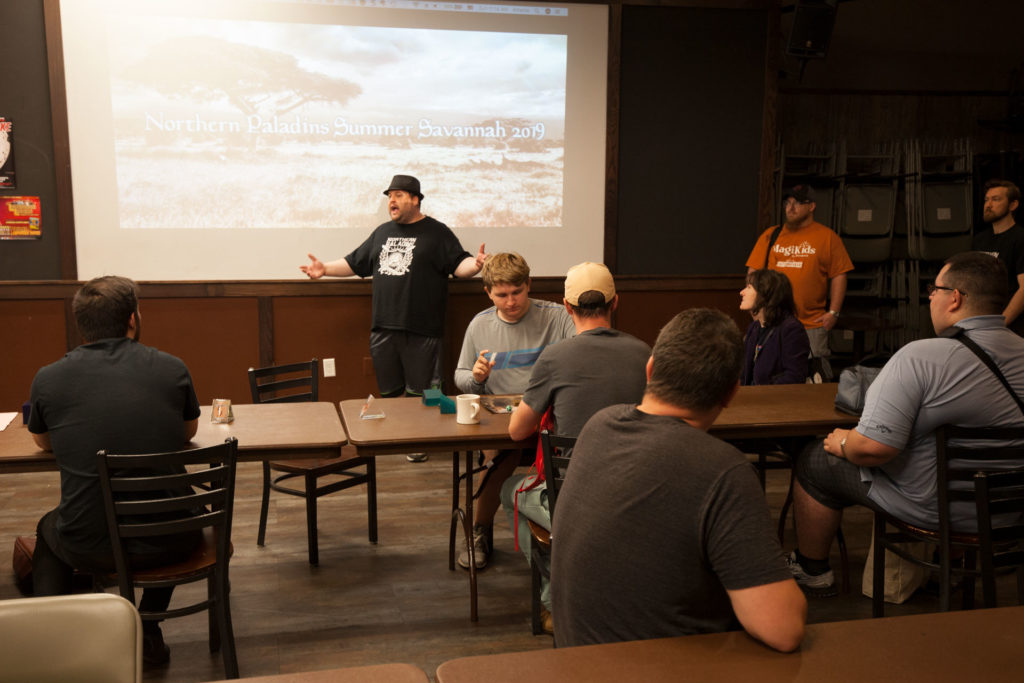 Does Dane have the CandleFlare combo assembled?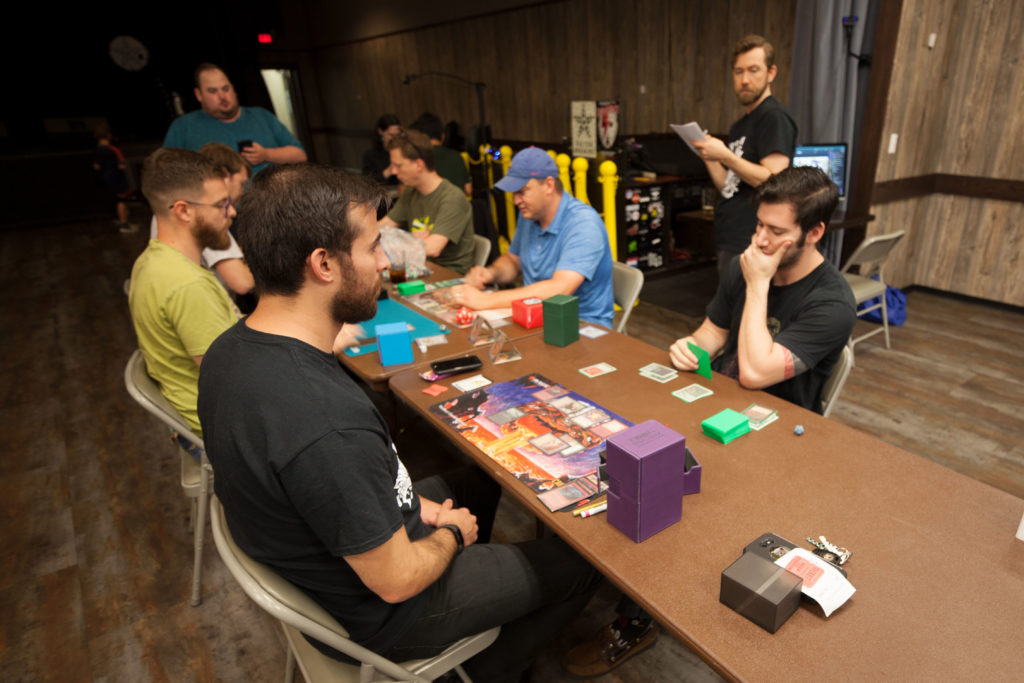 Kevin watches Tom's Lich deck go off!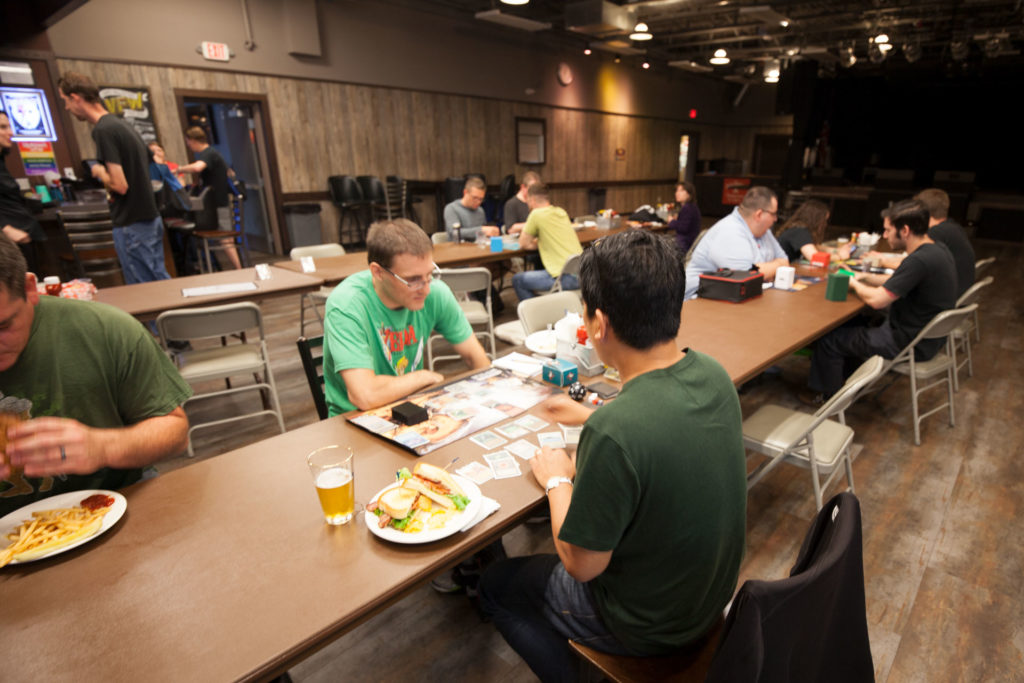 Meagan attacking with mono black!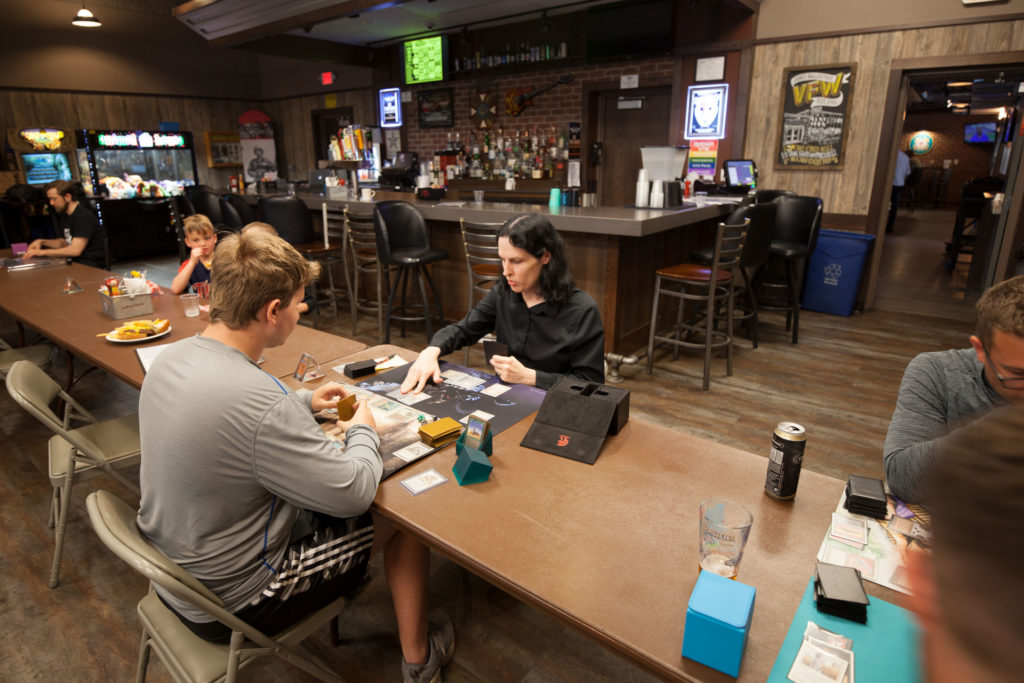 Joseph against Alisa and Nolan against Stevi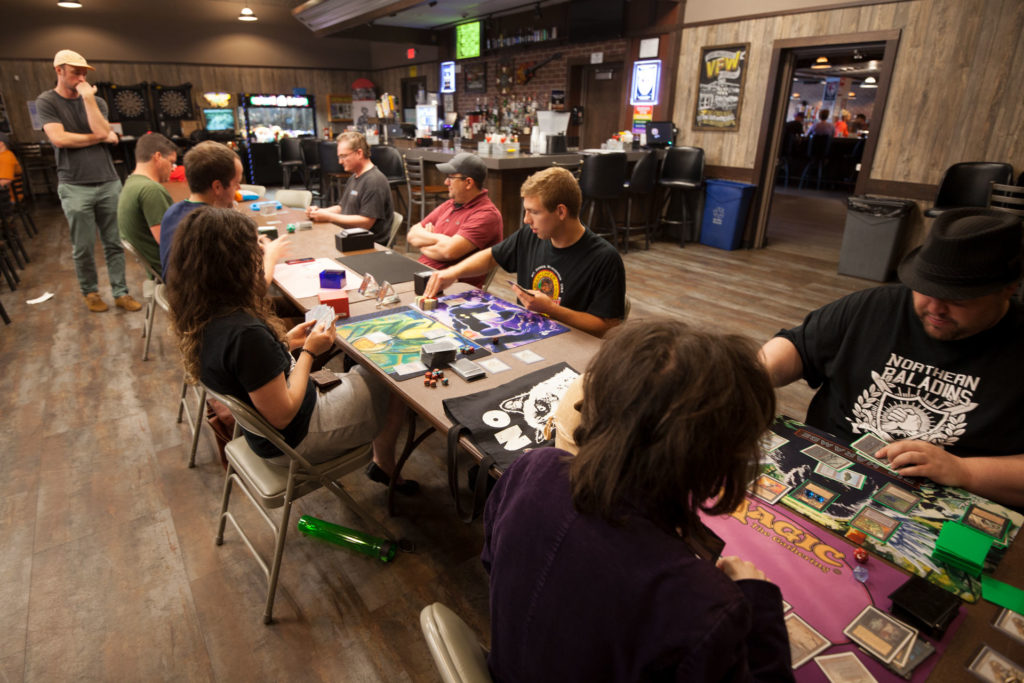 "Oh no!"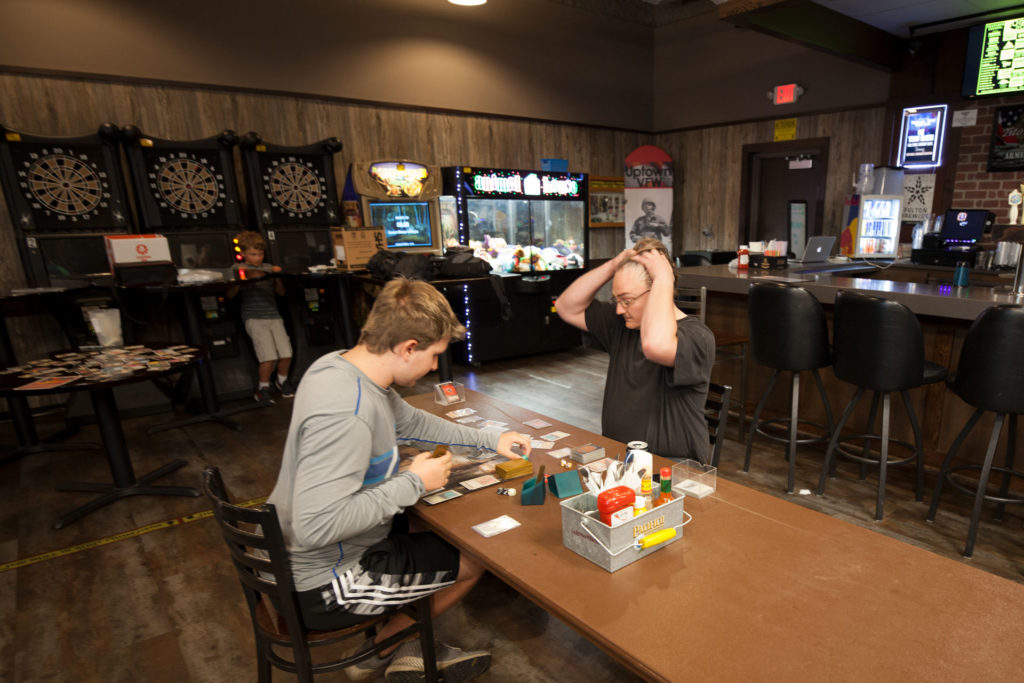 More scenes down the tables: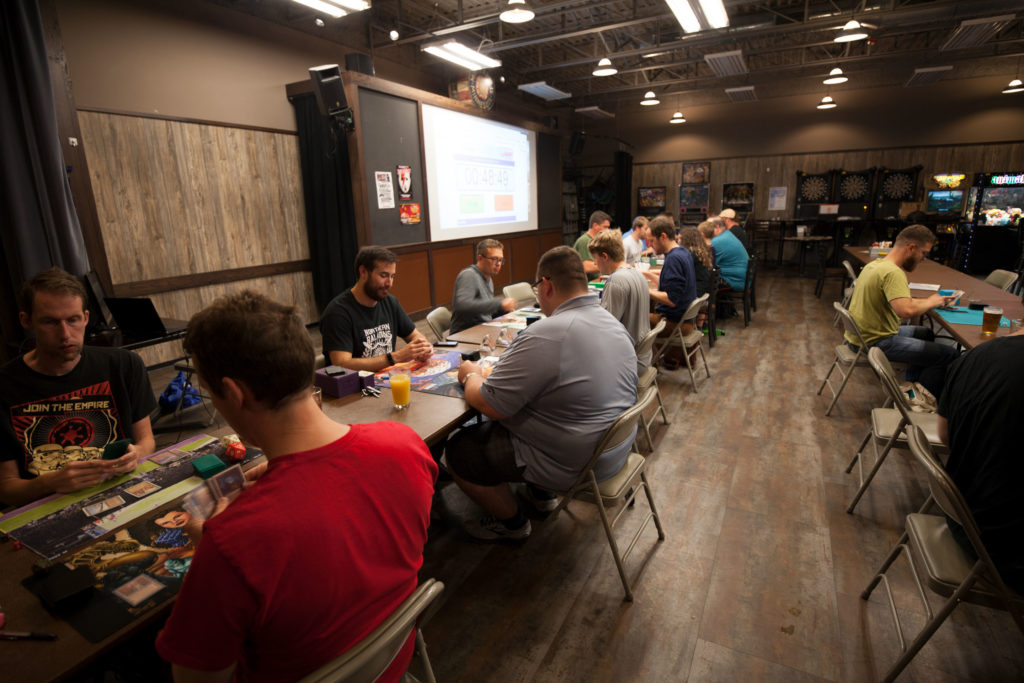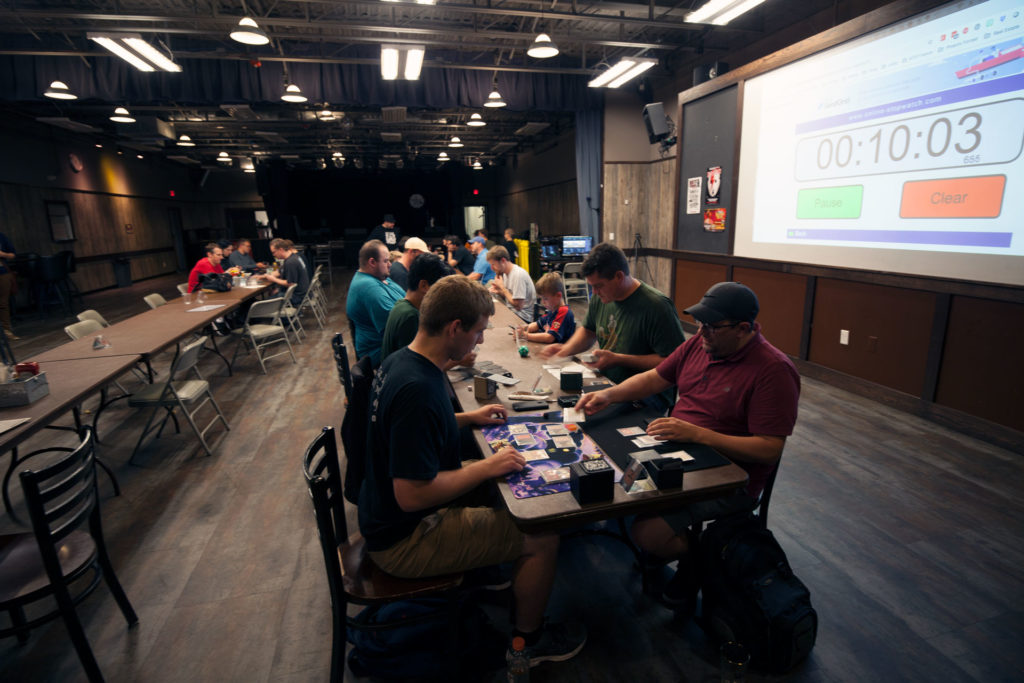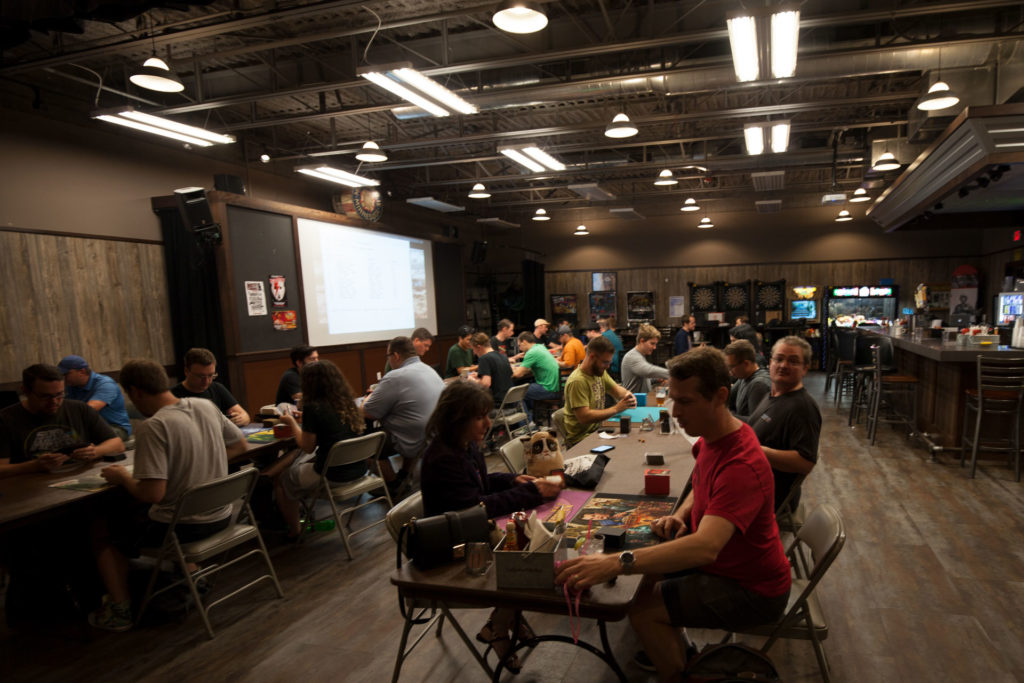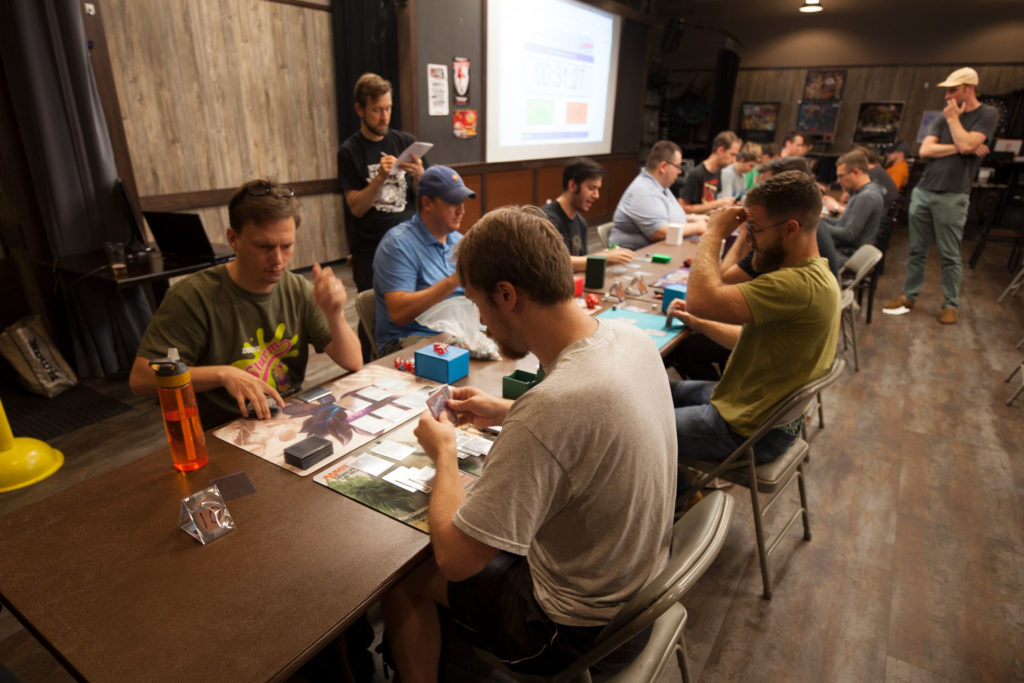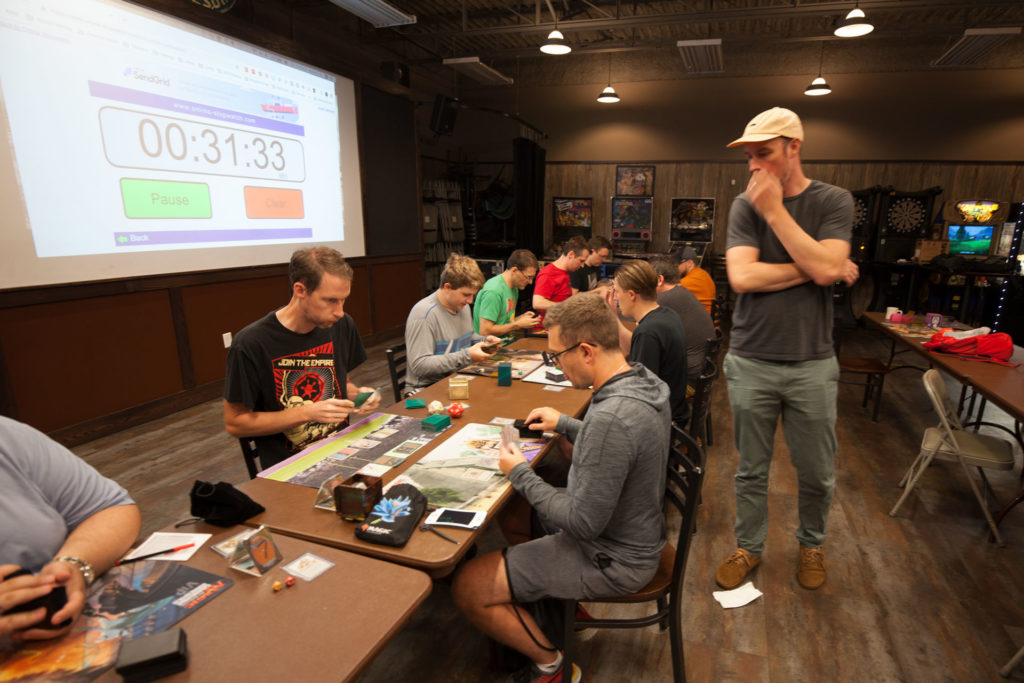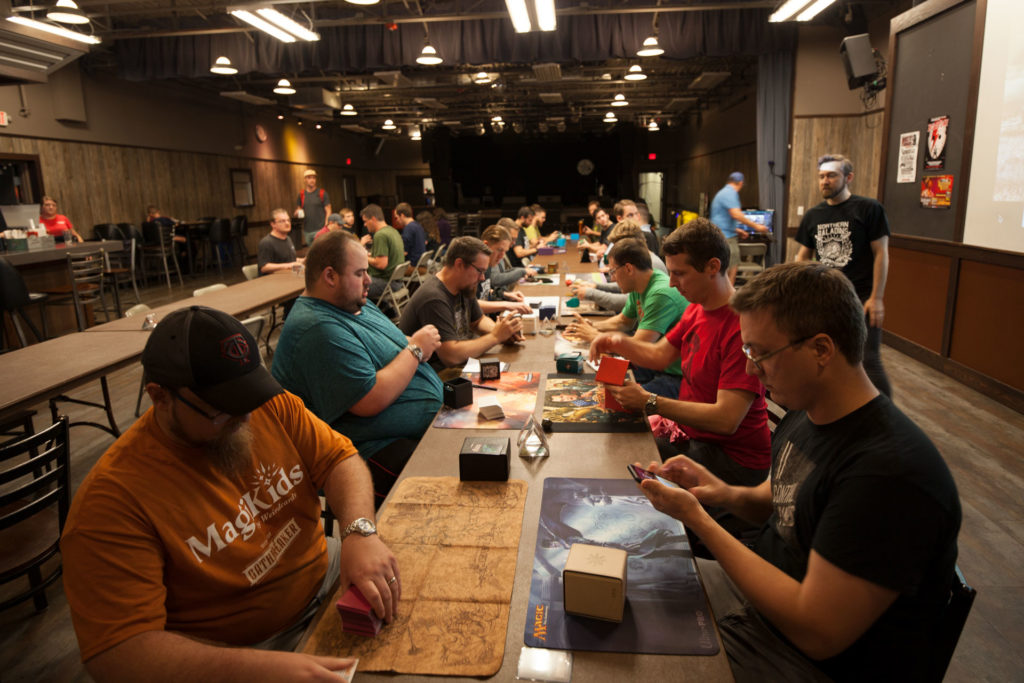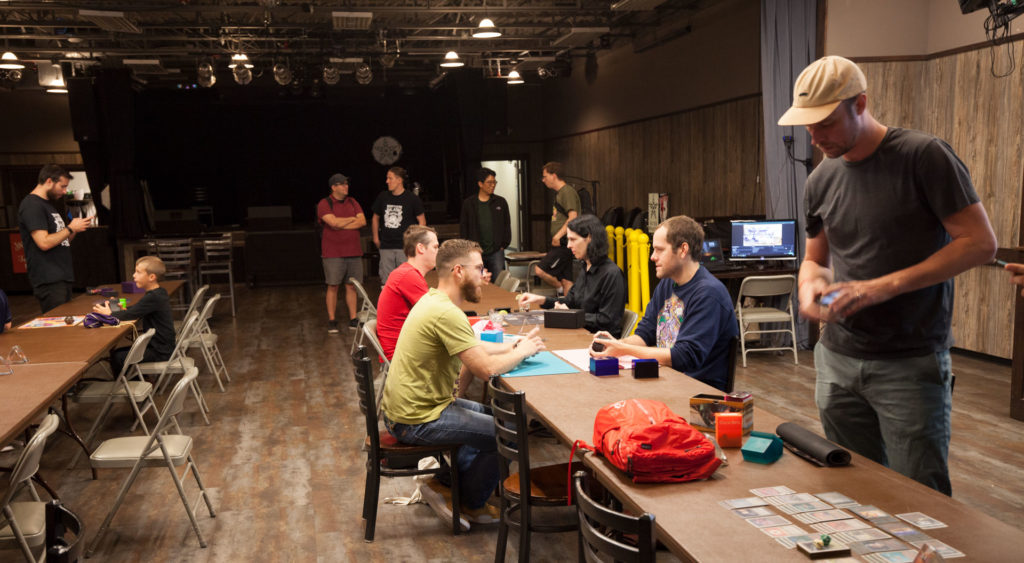 Looking Ahead
Our Northern Paladin group plans to host quarterly tournaments, so be on the lookout for our next event in three months — MORE DETAILS TO BE ANNOUNCED SOON! 
As a reminder, we host our Tuesday night Old School Gauntlet at Universe Games at 6:45 with FREE entry and weekly prizes and games are streamed on our Twitch channel: https://www.twitch.tv/northernpaladins
Last, if you're interested in joining our worldwide monthly Skype tournaments, please contact Joseph Freshwater or Dave Holler.