This past Sunday on February 10th, the Northern Paladins hosted their second Old School 93/94 tournament!  Even the fierce Ice Storm that hit the Twin Cities that afternoon would not stop 20 brave paladins from driving through a half a foot of snow to arrive at their destination to sling cards.  First stop pre-tournament was a gathering at a bar across the street!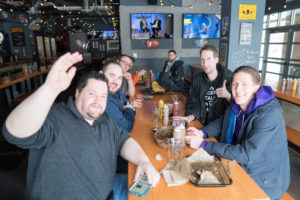 The tournament was again hosted by Universe Games in Minneapolis with a HUGE thanks again to Universe Games and the tournament organizers Michael Angelo Russo and Joseph Freshwater!   With 20 players, we had 6 rounds with the Swiss+1 format, and rules were Eternal Central 93/94.  With funding from the entry fees along with some generous donors, the prizes consisted of an Unlimited and CE Ice Manipulator for 1st and 2nd place, "Northern Paladin altered (NP)" Sylvan Library for 3rd, and NP Demonic Tutor for 4th place.
Other special NP card awards were given out to numerous other categories (see below!)  ALL participants received a NP altered Sol Ring, each one with the 2019 commemorative event text inscribed on them.  These prizes are turning out to be such a special bonus for attending Northern Paladin events, and you will certainly be seeing me tap my NP Sol Ring for 2 at every single Old School event I attend going forward!  In addition, the Northern Paladins took in clothes donations to a nearby shelter, and thanks to Jeremy Jones for helping deliver the donations!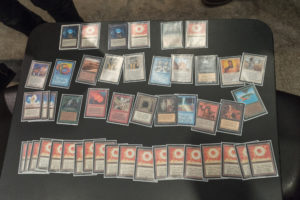 Five amazing signed prints were also RANDOMLY handed out to participants!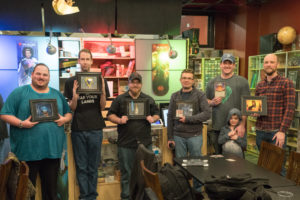 David Holler won an oversized Chaos Orb signed by all participants.  His son Jackson is already an old school wizard in training!
And Derek Estelle won a very cool Winter Blast themed Sol Ring altered by our very own Paladin Taylor Quail (who unfortunately couldn't make the trek from Iowa due to the weather!)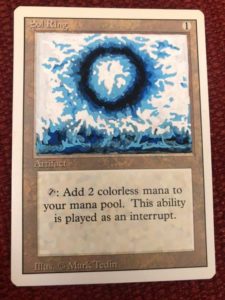 Other random participants won signed cards that Jeremy Jones donated!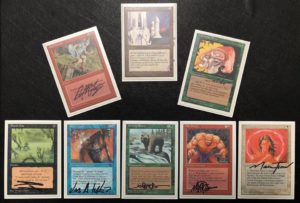 FINAL STANDINGS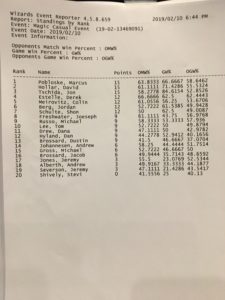 AWARDS
The winner of the tournament was Marcus Pobloske bringing a very unique Enchantress brew.   If you don't remember, Marcus took 3rd place (tied for 1st in the standings) at our Fall tournament with a unique Stasis deck, so he is turning out to be quite a talented brewer at our NP events.  This tournament deck used Wild Growths and Birds for ramp, Enchantresses and Sylvan Libaries for draw, but then had a full host of quad Juggernauts, Tetravuses, and Triskelions to bring a massive amount of robot beats.  The deck also played 4 Copy Artifacts to serve triple duty of draw, mana, or beats!  I saw 4 Living Artifacts in the board, which I'm guessing helped stabilize life and add draw.  Very cool!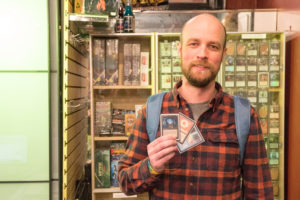 Tied with Marcus at 5-1 at the top of the standings were Dave Holler and Jon Tschida.  Dave played what he called Paladin Stew.  He assembled it the night before when some other cards didn't come in the mail, but this 4-color stew does a little of everything and certainly did a thick, hearty smashing of his opponents.  Jon played a 4-color aggro control deck, splashing red and black for bolts, tutor, twist, and a Shivan Dragon.   Jon's a great control player, so it wasn't a surprise he performed well.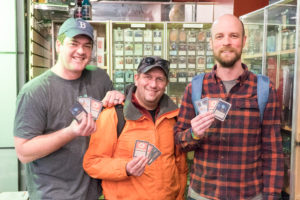 Top Unpowered Deck – Derek Estelle (4th Place).   Derek brought a sweet mono-black discard deck, finishing 4th without any power!  His deck seems lightning fast and very punishing to any deck with a greedy mana base.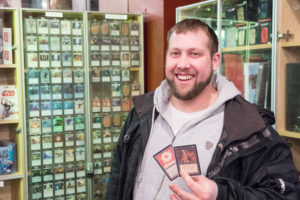 Most Creative – Dana Drew.  Dana has been bringing creative brews to our community, and for this tournament, he brought sort of a tribal Elves deck, but also adding Hymns and Specters.  Who needs an Elf Lord, when you have Elvish Farmers?  I had to squint in his decklist, but yes, he played miser Wormwood Treefolk, Fallen Angel, and a Oubliette maindeck!  Very Spicy!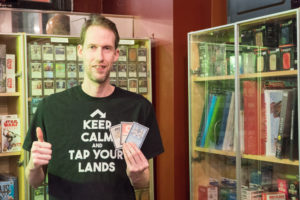 Paladin Spirit Award – Shon Schulte.  Shon has brought our Northern Paladin community to the Streaming Age, graciously volunteering his time and equipment to host Tuesday night live Twitch broadcasts, posting matches to Youtube, and he setup live streaming for this Winter Blast tournament.  It gave extra incentive to players to get to the top table to have your match broadcast!
'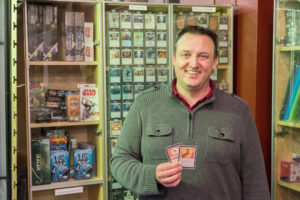 Other winners are noted in their decklist below.
DECKLISTS
Our tournament metagame had a whopping 5 monoblack decks, but beyond that there was a lot of diversity in decks.  There were several combo decks including cards such as Titania's song, Winds of Change, and Lich (which I brought).  I hope to be writing up a tournament report soon on my experience playing this fun, glass cannon deck.  We had 5 unpowered decks, with the top one coming in 4th place (Derek!)
Andrew-Alberth-Mono-Black-Rack (unpowered)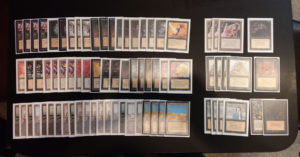 Jordan-Berg-Mono-Blue-Robots-Control (Most Happy Lil' Trike)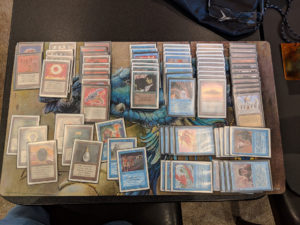 Dustin-Brossard – Monoblack Rack (Most Shaker & Mover)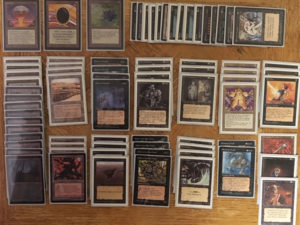 Jacob-Brossard-Mono-Black (unpowered) (Most Economical)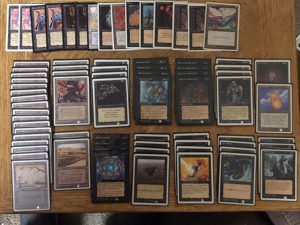 Dana-Drew-GB-Aggro Elves (unpowered) (Most Balanced, middle of standings)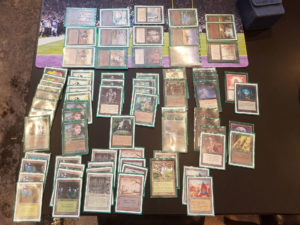 Derek-Estelle- Mono-Black (unpowered)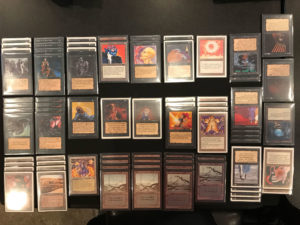 Joe-Freshwater – Lonely Atog and the case of the missing Mountain (Most Incendiary, Atogs)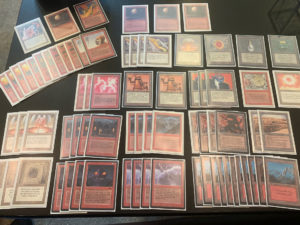 Michael-Gross Prison-Song (Most Chilled Out)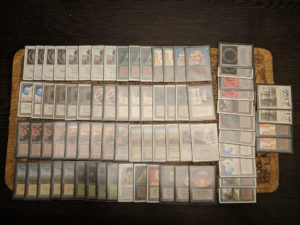 David-Holler 4-color Paladin Stew (Best Aerial)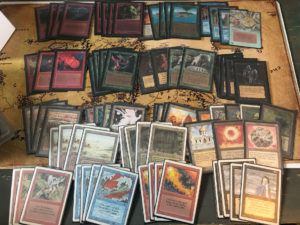 Dan-Hyland GW Erhnamgeddon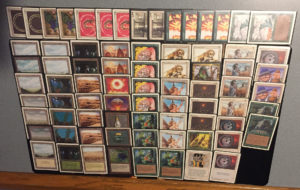 Andrew-Johannesen Mono-White-Weenie (unpowered) (Most Chilled Out)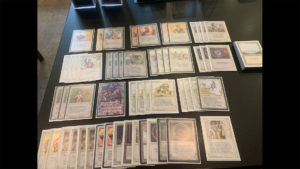 Jeremy Jones – Merfolk Control (Most Tribal)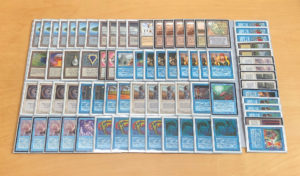 Tom Lee – Queens of the North (Lich Combo) (Most Balanced, middle of standings)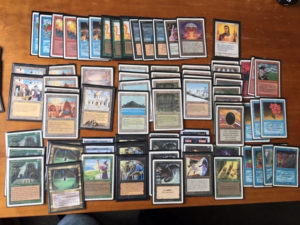 Colin-Meirovitz Merfolk-Aggro-Control (BAMF Award)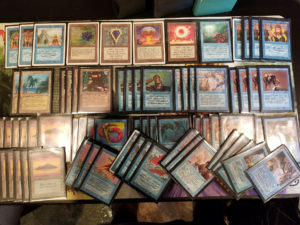 Marcus-Pobloske Enchantress (Most Inspirational)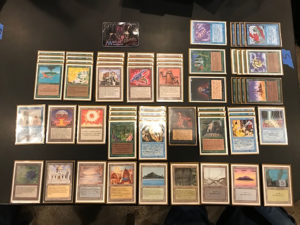 Michael Angelo Russo – No Black Lotus RUG Aggro Control (Angelo was wondering why he never drew his black lotus until he realized during Match 6 that it wasn't in his decklist!)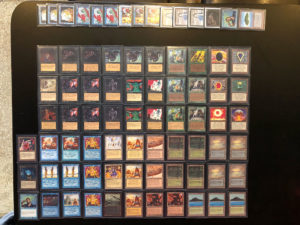 Shon-Schulte Monoblack Aggro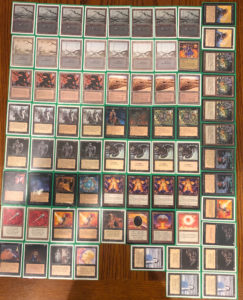 Jeremy-Severson 4-Color Dreams (Most Colorful)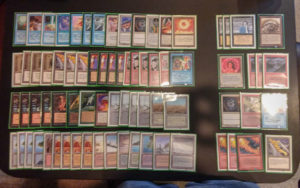 Stevi-Shively Ring-of-Fire (How Lucky! Award – there can only be one…peek at the standings)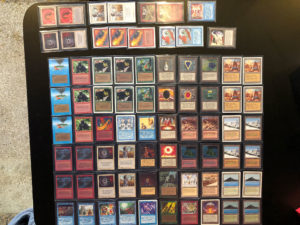 Jon-Tschida-4C-Aggro-Control (Best Defense with an awesome control suite of cards and sideboard)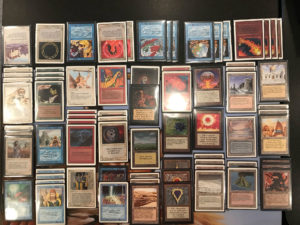 Pictures from the Day
A nice portrait down the tables at our Winter Blast.  Stevi and Dana draw their 7 to start the game.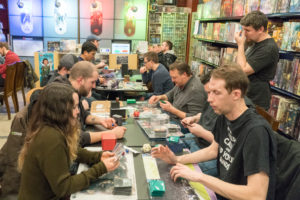 Shon's Monblack vs. Mike's Prison Song deck.  Shon's Gloom looks menacing against Mike.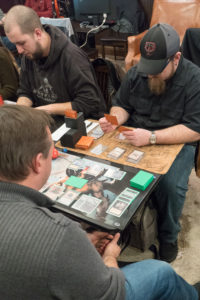 Tom starts going off with his Lich combo, while Jordan curiously watches it in action.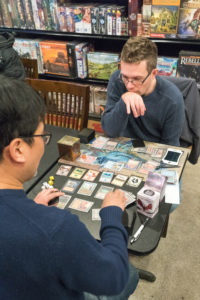 Dave's Paladin Stew vs. Colin's Merfolk Aggro.  If Dave Hymns Colin, he's got a Psychic Purge waiting.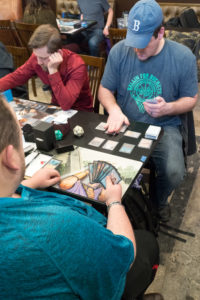 Jon's 4-Color Control vs. Angelo's RUG Aggro.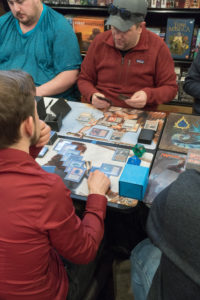 Marcus's Enchantress vs. Derek Monoblack in the Feature Match!   That's a lot of robots staring down Derek's Sengir Vampire.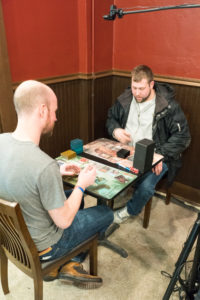 If you're interested in watching some of the feature matches, check out these links on our Twitch channel:
Winter Blast Part 1: https://www.twitch.tv/videos/378550894
Winter Blast Part 2: https://www.twitch.tv/videos/378664214
Looking Ahead
Our Northern Paladin group plans to host quarterly tournaments, so be on the lookout for our next event on a Saturday in three months.
We also ask you to SAVE THE DATE for August 8-11, where the Northern Paladins will be joining the fun at Grand Prix MINNEAPOLIS and hosting fun Old School get togethers that weekend including a private party on August 8.   Contact Joseph Freshwater for more details!
As a reminder, we host our Tuesday night Old School Gauntlet at Universe Games at 6:45 with FREE entry and weekly prizes and games are streamed on our Twitch channel: https://www.twitch.tv/northernpaladins
Last, if you're interested in joining our worldwide monthly Skype tournaments, please contact Joseph Freshwater or Dave Holler.