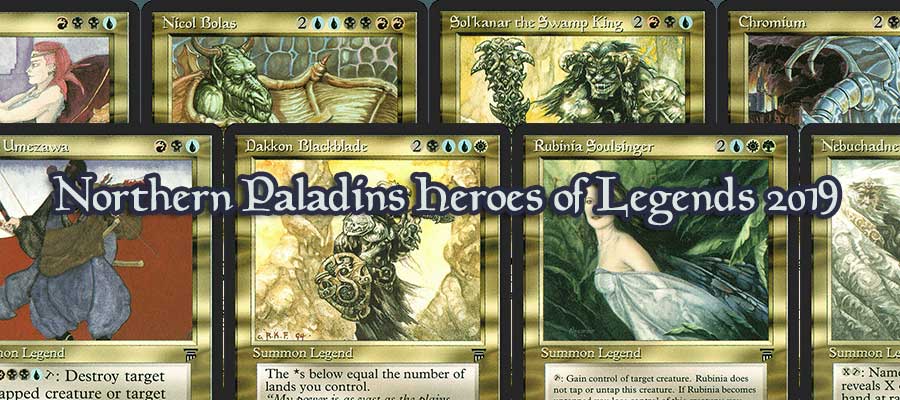 Join us for the Northern Paladins Old School Heroes of Legends 2019!
October 26th:
10-10:45am Player Check in Heroes of Legends EC Tournament
11Am Round 1 Heroes of Legends EC Tournament (Fantasy Flight Games Event Center)
6pm Prizes & Acolades Heroes of Legends EC Tournament

Main Event Format:

Eternal Central Old School 93/94, deck construction rules can be found here.
When:

Saturday October 26th 2019 – 11AM Sharp 1st round parings. FFGEC doors open to the public at 10AM, player check in is at 10-10:45AM in the Event Hall
Where:

Fantasy Flight Games Event Center 
1975 County Road B2 West Roseville, MN 55113 (Free parking on site) T
hey have a full kitchen and drink menu for our event!
Entry fee:

$20 preregistration *until October 12th, $30 after – Maximum capacity: 48 players
The Northern Paladins Heroes of Legends Old School 93-94 tournament will begin at 11AM sharp and be run Swiss + 1 rounds (based on number of players) with final standings and prizes awarded at the completion of the final round of the event. Plan on 6 rounds of fantastic Old School games! Registration fees are non-refundable and are used for prizes, expenses, and charity!
Please use the pay now button below to register for the event!
Once you have completed registration please send all decklist pictures to info@northernpaladins.com by 6pm October 25th.
If you'd like to see the details of our last event the 2019 Northern Summer Savannah you can read the report

here
Confirmed Registrants (Updated last 10/11/19 @ 11:28 PM)
1. Joe Freshwater
2. Jon Tschida
3. Michael Angelo Russo
4. Jordan Berg
5. Dan Hyland
6. Dane Malone
7. Jeremy Jones
8. Michael Gross
9. Jeremy Severson
10. David Holler
11. Meagan Hyland
12. Jesse Laidlaw
13. Kevin Berg
14. Justin Halberg
15. Saul Clayman
16. Colin Meirovitz
17. Jason Freshwater
18. Tony Anderson!
19. Tom Lee
20. Joshua Johnson
21. Arty Garcia
22. Nolan Becker
23. Kenny Becker
24. Jonathan Brummer
25. Tim Winter
26. Dustin Brossard
27. Bobbi Brossard*
28.
29.
30.
31.
32.
33.
34.
35.
36.
37.
38.
39.
40.
41.
42.
43.
44.
45.
46.
47.
48.